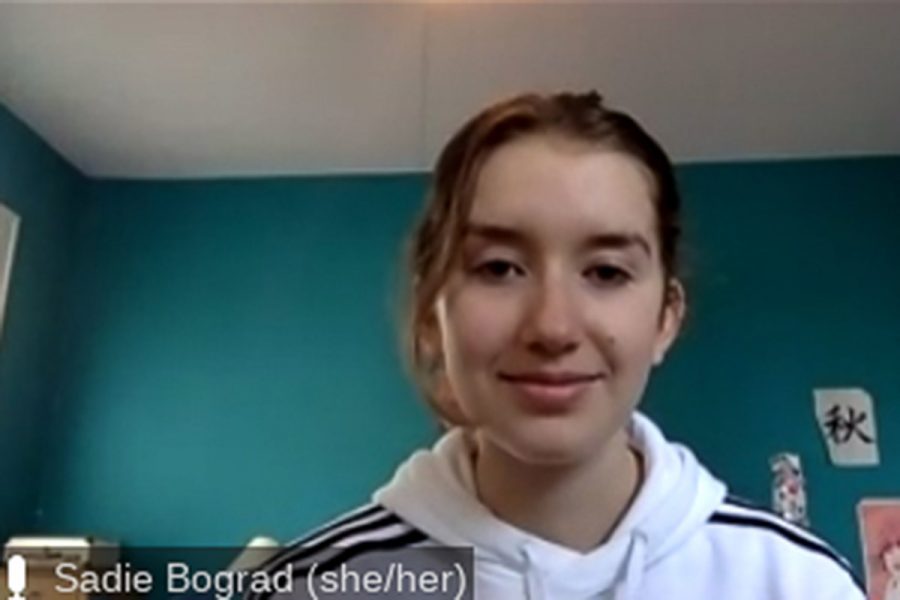 Hi! I'm Sadie Bograd, and I'm a senior at Dunbar. This is my second year on Lamplighter staff. I'm now one of the program's Editors-in-Chief. Along with Brooke Abell, I lead our writing, photography, and website. This year, I hope we can produce consistently high-quality reporting that keeps our readership informed and engaged.
When I'm not writing or editing articles, I love reading The New Yorker, listening to podcasts while I walk my dog, and baking gluten-free desserts (I make a mean plum crumble). I'm also part of Dunbar's speech and debate team. 
I hope you enjoy what our team creates!
Sadie Bograd, Writing Editor in Chief
Dec 11, 2020

Students Lead Candlelight Vigil for Manny Caulk

(Story/Media)

Dec 05, 2020

Grades, Attendance Still a Concern for Administration

(Story)

Dec 05, 2020

FCPS Superintendent Passes Away

(Story)

Nov 16, 2020

FCPS Cancels In-Person Services, Athletics

(Story)

Nov 13, 2020

Planning a Return to In-Person School

(Media)

Nov 09, 2020

Students Disappointed by Winburn Principal's Controversial Social Media Post

(Story)

Nov 08, 2020

First-Time Voters Share Their Experiences

(Story/Media)

Nov 07, 2020

Kentucky Election Results Include Few Surprises, Local Changes

(Story/Media)

Nov 06, 2020

Mental Health Looks Different in Online School

(Media)

Oct 31, 2020

Yard Signs No Longer Just for Political Candidates

(Story/Media)

Oct 30, 2020

Must-See Halloween Decorations

(Media)

Oct 29, 2020

A Guide for Your College Application Adventure

(Media)

Oct 28, 2020

WPLD Oct. 28 Broadcast

(Media)

Oct 19, 2020

Paying It Forward: A Cup of Commonwealth Offers Coffee and Community During Pandemic

(Story/Media)

Oct 02, 2020

Students' Guide to Voting in 2020

(Story)

Sep 23, 2020

Fayette County Reaches "Red" COVID Incidence Rate

(Story)

Sep 23, 2020

WPLD Sept. 23 Broadcast

(Media)

Sep 19, 2020

May Her Memory Be a Blessing

(Story)

Sep 16, 2020

Dunbar Teachers' Reading Recommendations

(Story/Media)

Sep 15, 2020

Parents Protest, Want Option for In-Person Instruction

(Story/Media)

Aug 22, 2020
Aug 10, 2020

Virtual Learning Creates New Challenges for Teachers

(Story)

Jul 29, 2020

Dunbar Considers 4×4 Schedule

(Story/Media)

Jun 12, 2020

Students, Policymakers Call for African American Studies

(Story)

Jun 04, 2020

Lexington Protests against Racism and Police Brutality

(Story/Media)

May 27, 2020

Making the Most of the Quarantine

(Story/Media)

Apr 18, 2020

COVID-19 Pandemic Prompts Universities to Adopt Test-Optional Admission

(Story/Media)

Apr 03, 2020

The Vaping Epidemic isn't Over

(Story/Media)

Feb 25, 2020

Why Do We Have Leap Years?

(Story)

Feb 10, 2020

The Best of Lexington's 'Halfway to Burger Week'

(Story)

Jan 27, 2020

UK Student Applauded for Response to Campus Visit from "Gun Girl"

(Story)

Jan 21, 2020

WPLD Jan. 21 Broadcast

(Media)

Jan 08, 2020

Getting to Know PLD's Security Ambassadors

(Story/Media)

Dec 13, 2019

Orchestra Creates a Family of Musicians

(Media)

Nov 15, 2019

How soon should you begin the College Application process?

(Media)

Nov 10, 2019

Media Arts Career and Technical Education Pathway

(Media)

Oct 31, 2019

Dunbar Students Gear Up for Halloween

(Story)

Oct 30, 2019

Why Elections Matter Even if You Can't Vote

(Story)

Oct 14, 2019

WPLD Oct. 14 Broadcast

(Media)

Oct 10, 2019

Respect the Library

(Media)

Oct 05, 2019

Lockers at Dunbar a Waste of Space

(Story)

Sep 26, 2019

The Legacy of Dunbar's Memorial Garden

(Media)

Sep 09, 2019

Teacher, Students Disappointed by Changes to AP World History

(Story)