FCPS Students Prepare to Go Back to School
The district announced probable return dates for all grade levels.
Fayette County Public Schools announced on Feb. 23 that students in all grades will be able to return to the school building within the next month. 
After announcing on Feb. 16 that students in grades 3-5 would be able to return on Wed., Mar. 3, the district revealed their plans for older students. Grades 6, 9 and 12 will return in-person starting Mar. 8, and grades 7, 8, 10, 11 and preschool will return starting Mar. 15. 
Special programs, like STEAM Academy and the Martin Luther King Jr. Academy, will remain online for now. Acting Superintendent Marlene Helm said this decision was based on challenges with finding enough bus drivers.
The district decided to open schools because the number of new COVID-19 cases in Lexington is declining. As of Feb. 25, Lexington had a seven-day average of 83 new daily cases, placing the district in the bottom of "Stage 4" on the district's in-person learning matrix and allowing it to start "graduated in-person learning." FCPS also considered that Kentucky has already administered vaccines to most of its teachers and is projected to be the first state to complete teacher vaccinations. 

Loading ...
Gov. Andy Beshear also issued an executive order on Feb. 23 that recommended all school districts offer "some form of in-person instructional opportunities" starting Mar. 1 or once all district personnel have been vaccinated. 
Students who wish to continue virtual learning will be allowed to do so. Those students will also still be able to pick up free meals through the district's meal distribution program.
Dunbar's Administrative Dean Tonya Merritt said that as of Feb. 26, 560 students had signed up to remain online. Around 72% of Dunbar students will return to in-person learning.
Students who return to the building will be required to follow strict protocols to prevent the spread of COVID-19. Dunbar's Return to Campus Plan indicates that students and staff must wear masks at all times, social distance as much as possible, and sit in assigned seats in classrooms and in the cafeteria. 
Dunbar's schedule will also be changing. Mondays and Thursdays will still be A days, and Tuesdays and Fridays will still be B days. Wednesdays, however, which used to be reserved for CCR/SEL classes, will now be normal school days and will alternate between A and B days each week. 
More information about the upcoming return will be released in the next week. In the meantime, students who wish to sign up for a different mode of instruction should email their counselor. 
About the Contributors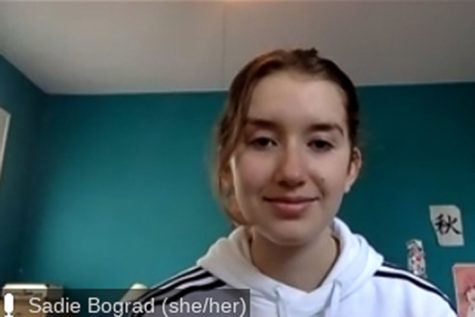 Sadie Bograd, Writing Editor in Chief
Hi! I'm Sadie Bograd, and I'm a senior at Dunbar. This is my second year on Lamplighter staff. I'm now one of the program's Editors-in-Chief. Along...