FCPS Considers In-Person Return
Grades K-2 could be back in school on Feb. 16.
In a letter to parents on Tuesday, FCPS acting superintendent Marlene Helm said that students in grades K-2 will likely be able to return to school in two weeks, on Feb. 16. 
The board made the decision based on trends in COVID-19 data and "transition factors" like the availability of vaccines for FCPS employees. 
Although Lexington is still in Stage 5 on the district's COVID-19 In-Person Learning Matrix, with over 132 new daily cases on average, Helm said that the board and Lexington's health department are optimistic that cases will continue to decline. If cases decrease as expected, Lexington would enter Stage 4, in which graduated in-person learning is possible. 
The board will make a final decision about whether to return on Tues., Feb. 9. Assuming cases decrease sufficiently, K-2 students will enter a hybrid instructional model, meaning that students who chose to stay online at the beginning of the semester would be able to continue virtual learning. 
Students in grades 3-12 will continue virtual learning for the time being. However, many students are hopeful that the board's decision is a good sign for all grades. 
"I think that going back to school is so crucial for so many students out there, especially students who have transitioned schools or are graduating after this year," senior Dominic Verry said. "I personally am very excited to return."
However, Verry is also anxious about the possibility that returning to school will increase the transmission of the coronavirus.
"
I personally am very excited to return.
— Dominic Verry
"I think caution is needed when returning because many people have not been following safety regulations and so school could become a place to spread infections," he said. "I may opt out if I see that the schools are not being as safe as we need."
And some students feel that the return to school wouldn't be worth it, given the restrictions that would be in place. Dunbar has published a 14-page list of rules for when school returns in person, which includes assigned seats in classrooms and the cafeteria and strict entrance and exit protocols.
"Obviously I'm sad that I'm missing out on all of these senior activities," Henry Clay senior Hannah Qazi said. "But I feel like if we wanted to do them, we could do them anyway with our own friends, socially distanced, rather than at school, because we probably wouldn't be able to do those things anyway if we were back at school."
About the Contributors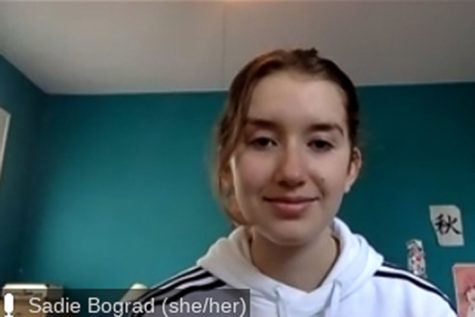 Sadie Bograd, Writing Editor in Chief
Hi! I'm Sadie Bograd, and I'm a senior at Dunbar. This is my second year on Lamplighter staff. I'm now one of the program's Editors-in-Chief. Along...