FCPS Superintendent Passes Away
Manny Caulk is remembered for his dedication to Fayette County students, especially during a time of crisis.
Fayette County Superintendent Emmanuel "Manny" Caulk passed away on Friday, school board chairwoman Stephanie Spires wrote in an email. 
Caulk became Fayette Superintendent after working in Portland, Maine, Philadelphia, and East Baton Rouge Parish, LA. 
Over the five years he worked as FCPS Superintendent, he was known for his commitment to equity. 
Caulk was "a champion for children and a warrior for social justice," according to a statement on the FCPS website. During his tenure, he led the district through multiple audits, created a 100-point "Blueprint for Student Success," and established Kentucky's first grant-funded Office for Educating Boys of Color.
The Kentucky Association for School Administrators named Caulk their 2019 Superintendent of the Year for his work in "intentionally engaging students, staff, families and community members in a top to bottom examination of the district and strategically building the structures and systems necessary for sustained success."
Caulk was also one of Education Week's 2018 "Leaders to Learn From" and was part of the nonprofit Chiefs for Change network. 
During the pandemic, Caulk prioritized science and safety, deciding to keep FCPS education online despite the vocal protests of many families. 
"We will always remember Manny Caulk for his devotion to our children," Mayor Linda Gorton wrote on Facebook. "He put their safety first, working as part of our stakeholder group to combat the pandemic. Our thoughts are with his family at this difficult time."
Dunbar students and staff reacted to the news of Caulk's death with shock and sadness.
"Superintendent Caulk had a leadership style that made everyone feel valued," junior Logan Justice said. "Throughout the pandemic and even before, it was evident how important students were to him and specifically students' safety."
"I can't help but remember the few times I was recognized at the board meetings, and although the picture, medal, and handshake were something he did every month, you could tell how invested and excited he was to see his students excel outside of the classroom," Justice added.
Librarian Hazel Compton described Caulk as a "fearless leader," someone who was "always prepared to pull others up and point them to a direction upward."
Graduates also remembered Caulk as someone who cared deeply about students and their beliefs.
"Manny cared about my voice and my opinions as a student the moment he met me," graduate Abby Wheatley said. "He also cared about me as a human being, and that was something notable about him–his kindness touched your heart and soul."
.@BritainyBeshear and I were saddened to learn Fayette County Schools Superintendent Manny Caulk has passed. Superintendent Caulk was a tireless advocate for education and helping our children reach their full potential. His work greatly benefited students in Fayette County.

— Governor Andy Beshear (@GovAndyBeshear) December 5, 2020
Other community leaders shared words of remembrance on social media.
"Superintendent Caulk was a tireless advocate for education and helping our children reach their full potential," Gov. Andy Beshear wrote on Twitter. "His work greatly benefited students in Fayette County."
Caulk, who was 49, is survived by his wife and children. 
Dr. Marlene Helm is currently serving as acting superintendent.  
About the Contributors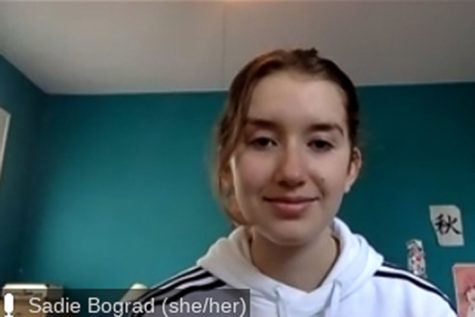 Sadie Bograd, Writing Editor in Chief
Hi! I'm Sadie Bograd, and I'm a senior at Dunbar. This is my second year on Lamplighter staff. I'm now one of the program's Editors-in-Chief. Along...