Olivia Rodrigo Tops Charts with "Drivers License"
The 17-year-old broke Spotify's record for most daily streams of a non-holiday song.
I'll be honest, I didn't have high hopes for Olivia Rodrigo's musical career. Knowing nothing more than that she starred in Disney's "High School Musical: The Musical: The Series," I assumed that Rodrigo would follow the path of so many child actors turned musical artists, like JoJo Siwa: sugary, poppy hits without much emotional punch.
Oh, how I was wrong.
Rodrigo's debut single, "Drivers License," is much more nuanced and downcast than I'd expected. The song showcases the singer reflecting on heartbreak while behind the wheel of her car. Getting her license is bittersweet because it reminds her of her ex.
"You were so excited for me / To finally drive up to your house / But today I drove through the suburbs / Crying 'cause you weren't around," she sings. 
Fans have speculated that the song is about her co-star and rumored ex-boyfriend Joshua Basset, who they believe is now dating Sabrina Carpenter, also of Disney fame. There's evidence for this theory, as the boy referenced in the song is apparently dating an older blonde girl now.
But whatever the cause of Rodrigo's heartbreak, it's undeniable that the heartbreak is there. "Drivers License" is the kind of song you can listen to on repeat, struck by the sadness and disillusionment Rodrigo communicates. In just four minutes, the singer perfectly encapsulates all the complicated feelings that arrive with the end of a relationship: lingering romantic feelings mixed with insecurity, anger, and misery. 
The masterful lyrics, paired with production from stars like Conan Gray and Dan Nigro (who has co-written and produced dozens of songs with Gray, Carly Rae Jepsen, and others), make for a song that is deeply moving.
Listeners around the world seem to agree. "Drivers License" reached No. 1 on the most-played charts for Apple Music and Spotify. The song also broke the record for the most single-day Spotify streams with over 17 million listens, beating Ariana Grande's "thank u, next." 
Critics are already saying that the single might be in the running for song of the year. The song also got a shoutout from Taylor Swift. After Rodrigo shared that she was excited to be next to Taylor Swift in the iTunes charts, Swift replied, "I say that's my baby and I'm really proud."
Rodrigo will release her first EP sometime in 2021, sparking hopes for more hits like "Drivers License."
About the Contributors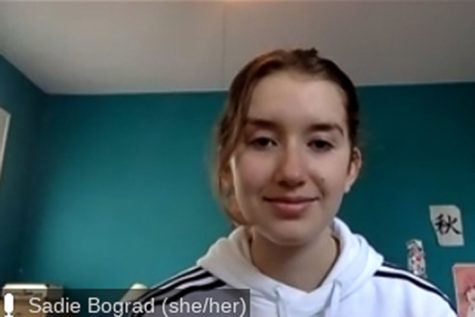 Sadie Bograd, Writing Editor in Chief
Hi! I'm Sadie Bograd, and I'm a senior at Dunbar. This is my second year on Lamplighter staff. I'm now one of the program's Editors-in-Chief. Along...