Lexington Protests against Racism and Police Brutality
Racism is a tragically powerful force in practically every area of our society. But the protests of the past few days are a reminder that resistance to that racism is powerful, too.
The world is in the midst of history in the making. Americans and others across the globe are collectively using their voices to attempt to right the wrongs that have persisted for centuries. Time and time again in America, black people are murdered by police at an exponentially higher rate than whites, and for much lower stakes.
The most recent of these deaths sparked the current outrage.
On March 13, Louisville police used a no-knock warrant to enter the apartment of Breonna Taylor. They crashed into her home without warning, failing to identify themselves.
After a brief conflict, they fatally shot her at least eight times.
On May 25, Minneapolis police arrested George Floyd for using an allegedly counterfeit $20 bill. After he fell to the ground, white police officer Derek Chauvin pressed his knee to Floyd's neck. Despite Floyd's repeated protestations of "I can't breathe," Chauvin did not remove his knee for 8 minutes and 46 seconds.
Floyd fell unconscious and was pronounced dead an hour later. 
Breonna Taylor and George Floyd are among the hundreds of African-Americans killed by acts of police brutality each year. For decades, we have known that our police and criminal justice systems perpetuate violence and racism: black people are more likely to be killed by the police and more likely to be incarcerated than whites. Our prisons and police departments emerged directly from a long history of slavery. 
Across the country, people are gathering to protest these unjust realities.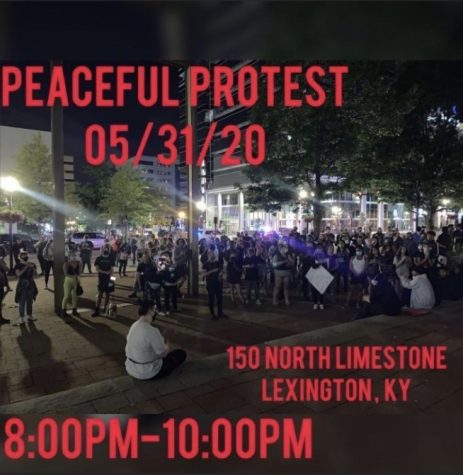 From New York to Los Angeles, Miami to Salt Lake City, protesters are denouncing racism and experiencing varying degrees of violence and police backlash.
On May 29, Lexington residents joined together downtown to call out acts of police brutality. My family and I joined the protests on May 31.
Upon arrival, we intended to maintain social distance from the crowd, but we quickly gave up any pretense of standing six feet apart. There were hundreds of people present, and such efforts were clearly infeasible. 
Thankfully, most everyone was wearing some form of a mask. But the few bare faces in the crowd reminded me of the health risks we had all decided were less important than the need to decry police violence.
I didn't feel much of a sense of formal organization — at the very beginning, someone with a megaphone too weak to reach the entirety of the crowd instructed protesters to turn off touch ID on our phones, and at various points throughout the march, I could faintly hear what sounded like directions. 
For the most part, though, it felt like the crowd was moving organically.
As we marched down Main Street, circling around the block and back towards the courthouse, we chanted in unison: "No justice, no peace." "Black lives matter." "Hands up, don't shoot."
Various moments stand out from that night–the cars honking in support as they drove by, the sight of dozens of signs hoisted against the night sky–but what stuck with me more than anything was the collective sense of outrage at the continued racism that pervades our country.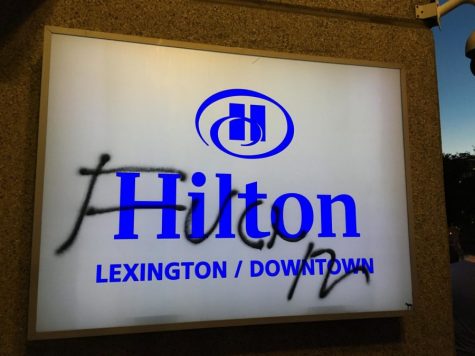 I'll be honest, I was apprehensive about attending the protest at first, having seen videos of protests turned violent in cities like Minneapolis and Los Angeles. But when the protesters briefly knelt in the middle of Main Street, my nerves disappeared.
And other than a Hilton hotel sign spray-painted with the message "F*** 12", which is a trending phrase meaning "F*** the police", there were no signs of violence or vandalism. 
Over the past few days, demonstrators have been criticized by many people, including our President in a tweet that was tagged by Twitter for "glorifying violence."
But the current protests are nothing like the illogical demonstrations against social distancing requirements. We are not demanding haircuts or restaurant meals — we are demanding an end to senseless violence and institutionalized racism. 
Some have claimed that protesters are at fault for the violent escalations that have occurred, with police firing tear gas, rubber bullets, and paint canisters at crowds (and, in some cases, at uninvolved people sitting quietly on their porches).
It's worth noting that those same police officers were calm when just a few weeks ago the mostly white protesters brandished weapons in their calls for an end to quarantine measures. The police also did not use tear gas on the white protesters who hung Gov. Beshear in effigy on the state capitol grounds.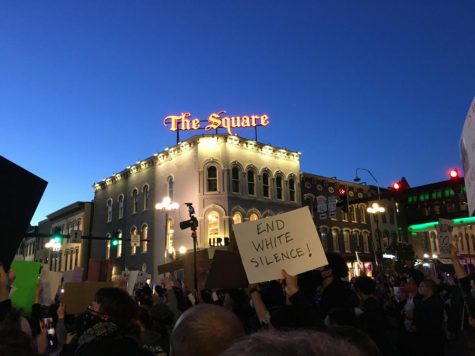 It is clear that our country has a problem with racism, and that the police are deeply embedded in this inequity and violence. These protests are bringing attention to a problem many of us have ignored for far too long.
I know that as a white person, I have been complicit in that ignorance. I am in no position to claim to be an expert on anti-racism or to take up space in this movement, but I urge you to listen to those who are.
If you can't attend demonstrations (and even if you can), you can support this movement in other ways.
It's not enough to say #BlackLivesMatter on your Instagram story. You can donate to the Louisville or Lexington community bail funds. You can sign petitions and contact your council members. You can educate yourself on police violence, prison abolition, and this country's continuing history of racism, including in our schools.
Use your platform and your privilege for good and amplify the voices of black organizers and activists.
About the Contributors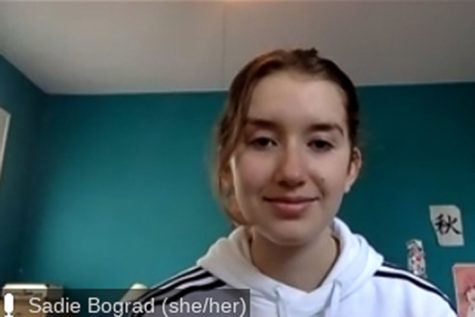 Sadie Bograd, Writing Editor in Chief
Hi! I'm Sadie Bograd, and I'm a senior at Dunbar. This is my second year on Lamplighter staff. I'm now one of the program's Editors-in-Chief. Along...