Homeless Students Face Heightened Challenges
FCPS Homeless Education Liaison James Hodge explains how housing insecurity can make school more difficult, especially during the pandemic.
Most students have found online learning difficult, to say the least. But for homeless students, the challenges are much greater. 
"If you are living in the elements, it's kind of hard to have access to a computer. It's kind of difficult to go to a school, go into your classroom, and be prepared," FCPS Homeless Education Liaison James Hodge said. "It's kind of hard to focus on passing the test if you're worried about where you're going to stay that evening." 
That's where Mr. Hodge comes in. Under the 1987 McKinney-Vento Act, every school district must have a local homeless education liaison who helps ensure that homeless youth have "equal access to the same free, appropriate public education." 
Mr. Hodge, along with the rest of the FCPS McKinney-Vento Office, helps students access that education in a variety of ways. They receive attendance, academic, and behavioral data about all the students in the program, which they use to connect students to tutoring services, check on students who are consistently absent, and more. They have received funding to help families buy clothing, food, and gas cards for transportation to school and extracurricular activities. They can help families facing eviction pay their rent. They take students on college tours and offer summer programs. 
"
It's kind of hard to focus on passing the test if you're worried about where you're going to stay that evening.
— James Hodge
The office also works with teachers and administrators to help them understand the unique needs of homeless students. For example, homeless students have the right to stay at the same school even if they move repeatedly throughout the school year. Mr. Hodge helps students navigate the logistics of remaining at their "school of origin" during transition periods.
"It's quite a bit that we do," Mr. Hodge said. "It's all based on individual and situational need."
But while Mr. Hodge helps homeless students however he can, he knows that there are students he is missing.
At one point, the district had identified 1,500 homeless students. "If we have 1,500, [there are] at least 3,000," he said. 
Usually, identifying eligible students is a "group effort." The McKinney-Vento Office works with Family Resource and Youth Services Center coordinators (FRYSCs), registrars, and employees who conduct home visits to identify students who may qualify for the program.
One of the major issues with enrollment is that many families do not realize they qualify as homeless. Under the McKinney-Vento Act, anyone who "lack[s] a fixed, regular, and adequate nighttime residence" counts as homeless. Unlike the Department of Housing of Urban Development, which uses a narrower definition of homelessness, the McKinney-Vento Act includes students who live in motels and hotels, students abandoned in hospitals, and migratory children, among others. In fact, the majority of homeless FCPS students are "doubled up," or living with other families due to loss of housing. 
"We'll offer the services to a family, and they'll say, 'No, we're not homeless,'" Mr. Hodge said. "Sometimes I have to convince and say, 'Hey, this is what the program can provide for your child. We're not saying that you're living outside, we're not saying that you are less than, that's not what we're saying at all.'"
Some families are also concerned about the stigma of being labeled as homeless. Other parents fear that Mr. Hodge works with Child Protective Services or will have their child taken away from them, although he does neither of these things. 
These problems have been exacerbated during the pandemic. Without seeing students in person, FRYSCs and registrars are often unable to identify students who might be experiencing homelessness. Although the office has created PSAs and put up posters, the number of students they work with has decreased. Currently, Fayette County has 367 identified homeless youth out of over 40,000 students. 
"The identified population has gone down across the state," Mr. Hodge said. "I'm sure even in our best efforts, we are missing some of the families because we don't know who they are, we don't know where they are, and they're not in schools to be able to see." 
That's why it's so important that students let administrators know when they think a peer might be experiencing housing insecurity.
"You all talk to one another before you speak to us," Mr. Hodge said. "Some student might tell you, 'Hey, I've run away from home,' or 'Hey, Mom and Dad put me out,' or 'Hey, we had a house fire,' or 'Mom lost her job, so we're living here.' If you find that a peer is going through that, please let your FRYSCs know, please let your counselors know… you're not telling on your friend. You're actually helping your friend."
Kindness is also key. 
"
You all talk to one another before you speak to us.
— James Hodge
"When you go to school in tattered clothing, sometimes you're made fun of," he said. "I've been in education… for over 24, 25 years, and I recognize that students can be very cruel and mean to their counterparts at times."
Mr. Hodge said it's important that teachers also be empathetic and aware of what their students are going through.
"A lot of staff are from a privileged background, a well-to-do background, and have not had to experience what these families are experiencing," he said. "You can't just be quick to say, 'I want this student kicked out of here because of behavior.' Well, if you saw Mom and Dad get beat by one another, or you haven't had food and you don't have clothes, and you get picked on and you're living outside–that is hard, your behaviors will change."
With the right supports, though, Mr. Hodge thinks that homeless students can have a better future.
"I want those children to be able to stand on their own feet and not run a revolving door, give up, just end up in the same state," he said. 
About the Contributors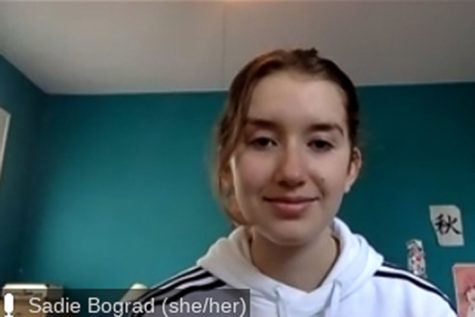 Sadie Bograd, Writing Editor in Chief
Hi! I'm Sadie Bograd, and I'm a senior at Dunbar. This is my second year on Lamplighter staff. I'm now one of the program's Editors-in-Chief. Along...