Kentucky Election Results Include Few Surprises, Local Changes
Donald Trump won the presidential race in Kentucky, but lost to Joe Biden nationwide. Progressive candidates did well in City Council elections, but Republicans gained seats in the state legislature.
On the national stage, many elections took days to be decided, as states like Pennsylvania and Nevada continued to count mail-in ballots. It was only on Saturday, Nov. 7, that media organizations like the Associated Press began calling the presidential election for Joe Biden.
But as of Nov. 4, Kentucky had counted an estimated 96% of its vote total, although mail-in ballots continued to be accepted until Nov. 6. 
On the national stage, not much changed. Kentucky is typically a right-leaning state, and Donald Trump won in Kentucky with over 60% of the vote, although he lost in Fayette County.
Sophomore Ana Despa was excited about Biden's success after days of waiting for final results.
"I think this election was really important in preserving our democracy, and especially for the younger generation," she said. "The candidate who won, I feel, will give the younger generation a voice in their government."
Kentucky Senator Mitch McConnell also beat Amy McGrath with nearly 60% of the vote, as was predicted in most polls. Although McGrath out-fundraised and out-spent McConnell, raising a record-breaking $36.8 million between July 1 and Sept. 30 and over $88 million in total, she was unable to beat the Senate Majority Leader and six-term senator. 
"I was disappointed, but I was not shocked," senior Sanaa Kahloon, who volunteered with the McGrath campaign, said. "This is pretty red territory… Whenever I would phone bank, I'd always get the, like, 'Ah, you're picking the losing side' or 'McGrath kills babies.'"
Republican Rep. Andy Barr, whose district includes Fayette County, also won reelection, defeating Democratic challenger Josh Hicks. 
In the state legislature, Republicans picked up some seats, expanding their majority. The 13th senatorial district, which includes parts of Fayette County, continues to be represented by Reginald Thomas, who ran unopposed. Killian Timoney, a former Dunbar teacher, narrowly won his race for 45th District Representative. 
"
Whenever I would phone bank, I'd always get the, like, 'Ah, you're picking the losing side' or 'McGrath kills babies.'
— Sanaa Kahloon
In the elections for Lexington-Fayette Urban County Council, Liz Sheehan defeated incumbent Bill Farmer, Jr., in District 5. Incumbent Fred Brown defeated challenger Christian Motley in District 8. There were also two newly open seats on the County Council, which were won by Hannah LeGris, in District 3, and Whitney Elliott Baxter, in District 9. Amy Green won the open seat on the School Board.
Although local races often garner less attention, some Dunbar students eagerly followed the results. 
"I was interested in the City Council elections because City Council makes a lot of the day-to-day decisions that impact our community, like where parks go, how much money goes into the police system, what the police union contract looks like, and just a lot about how local government is run," senior Gabriella Staykova said. 
Staykova said she was "overall glad that the City Council elections went further left," although she was disappointed that Motley lost the District 8 elections "because [she] got a yard sign for him and everything." 
Other students were especially interested because they had actively participated in the races. Despa helped run a School Board forum featuring the candidates for the seat.
"I actually really liked Ms. Amy Green," Despa said. "She promptly replied to us… and she seemed really prepared."
Despa added that she appreciated Green's interest in "reduc[ing] the police presence in schools to create a more positive school climate."
About the Contributors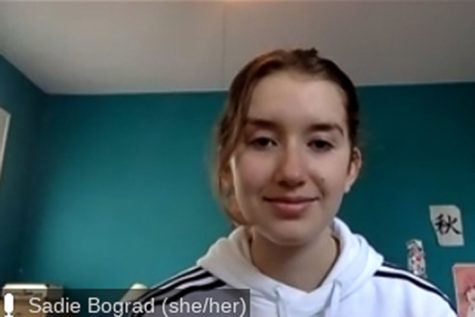 Sadie Bograd, Writing Editor in Chief
Hi! I'm Sadie Bograd, and I'm a senior at Dunbar. This is my second year on Lamplighter staff. I'm now one of the program's Editors-in-Chief. Along...