Back-to-NTI
Students are going back to school—NTI style—on Aug. 26. Dunbar's administration has provided updates on how virtual learning will work.
In a message sent to students and families on Aug. 10, Principal Betsy Rains explained the structure and schedule for non-traditional instruction this school year. On Aug. 17, she sent another message with details on the distribution of textbooks, Chromebooks, and other class materials. 
Before school starts
Sophomores and juniors can pick up necessary resources, including Chromebooks, in a drive-through on Aug. 24. Seniors will pick up materials on Aug. 25. 
Students should bring a copy of their schedule, which is now available on Infinite Campus. If students cannot attend the drive-through, they should contact their teachers directly. 
The complete schedule is as follows: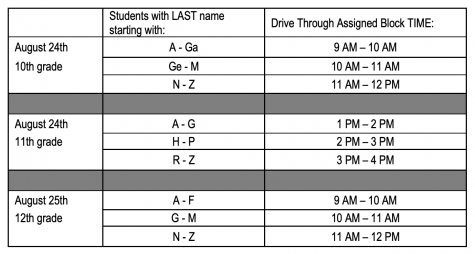 First day of school
Students will Zoom meet with all A-day and B-bay classes for 30 minutes on Wednesday, Aug. 26.

The complete schedule is as follows:
Zero Hour: 7:50 – 8:20

Homeroom/CCR: 8:25 – 8:55

A1: 9:05 – 9:35

A2: 9:45 – 10:15

A3: 10:25 – 10:55

A4: 11:05 – 11:35

Lunch:  11:40 – 12:15

B1:  12:25 – 12:55

B2:  1:05 – 1:35

B3:  1:45 – 2:15

B4:  2:25 – 2:55
Regular schedule
Mondays and Thursdays will be A-days, and Tuesdays and Fridays will be B-days. The schedule is as follows:
0 Hour:  7:25-8:20

1st block:  8:25-9:55

2nd block:  10-11:30

Lunch/break 11:30-12:05

3rd block:  12:10-1:50

4th block:  1:55-3:15

Office hours:  3:15-4:15 ("club meetings, update grades, call parents, respond to emails, etc.")
On Wednesdays, students will meet with their CCR teacher from 11-12. Additionally, teachers will be available to answer questions in office hours or feedback sessions, and the College and Career Center will hold optional sessions.
Technology
All teachers will use Canvas, which is available under the "Student Resources" tab on Dunbar's website. Students can find links to live instruction, as well as assignments, due dates, and more, on the platform. Other school-based communication will be sent via email. 
Teachers will provide live instruction via Zoom or Google Meet and attendance will be taken. 
Grading
Standards-based grading will continue. Employability will be 25% of a student's grade, and employability grades will be assigned every day. 
The guidelines state that "employability grades should reinforce student dispositions and work habits that contribute to learning at high levels but not penalize students for their mental and physical health, employment, technology access, or home life disruptions." 
Students who miss live classes without contacting the teacher in advance will receive a missing grade for that day's employability, but can improve their score to a maximum of 3 by completing class assignments within a week of the missed session.

Students who have "a consistent barrier to attending instructional sessions," like unreliable internet access or a conflicting work schedule, should contact their teachers.
About the Contributors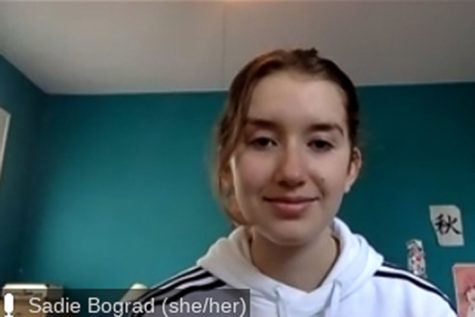 Sadie Bograd, Writing Editor in Chief
Hi! I'm Sadie Bograd, and I'm a senior at Dunbar. This is my second year on Lamplighter staff. I'm now one of the program's Editors-in-Chief. Along...