May Her Memory Be a Blessing
Justice Ruth Bader Ginsberg died on Sept. 18, the first night of Rosh Hashanah.
The tragic passing of Justice Ruth Bader Ginsburg was an especially severe blow to the Jewish community.
The death of the first Jewish woman to serve on the Supreme Court coincided with Erev Rosh Hashanah, the eve of the Jewish New Year, one of the most important holidays in the Jewish calendar. 
Already dispirited by the limitations imposed by COVID-19, celebratory Jewish services were further saddened by the devastating news of Ginsburg's death.
On the occasion or anniversary of someone's death, it is a Jewish custom to say zikhronah livrakha, "may her memory be a blessing." 
Ginsburg was well-known for her forceful legal opinions and her outspoken commitment to women's rights. 
Before her tenure on the Supreme Court, she worked at Rutgers Law School, where she was one of only two female law professors at the university and among only a handful in the nation. She later taught at Columbia Law School, where she became the first female full professor.
Ginsburg also co-founded the Women's Rights Law Reporter and wrote the brief for Reed v. Reed, the case that extended the 14th Amendment's Equal Protection Clause to include women. In 1972, she co-founded the Women's Rights Project at the American Civil Liberties Union, where she successfully litigated against numerous laws that discriminated on the basis of sex.
"
My heritage as a Jew and my occupation as a judge fit together symmetrically.
In 1980, she was nominated to the Court of Appeals by President Jimmy Carter. In 1993, President Bill Clinton nominated her as an Associate Justice of the Supreme Court.
Over the course of 27 years on the Supreme Court, Ginsburg authored dozens of notable opinions, becoming known for her fiery dissents as a member of the Court's liberal minority.
Ginsburg was born Joan Ruth Bader in Marth 15, 1933, in Brooklyn, New York, the daughter of a first-generation Jewish immigrant father and a "barely second-generation" Jewish mother. Throughout her decades as an attorney, judge, and justice, Ginsburg, though non-observant, remained close to her Jewish roots. 
"My heritage as a Jew and my occupation as a judge fit together symmetrically," she said. "The demand for justice runs through the entirety of Jewish history and Jewish tradition."
She decorated her chambers in the Supreme Court with the Hebrew phrase zedek, zedek, tirdof: "Justice, justice shall you pursue."
Ginsburg died of pancreatic cancer. Days before her death, Ginsburg dictated to her granddaughter, Clara Spera: "My most fervent wish is that I will not be replaced until a new president is installed."
About the Contributors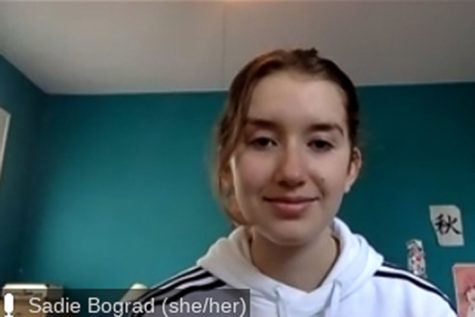 Sadie Bograd, Writing Editor in Chief
Hi! I'm Sadie Bograd, and I'm a senior at Dunbar. This is my second year on Lamplighter staff. I'm now one of the program's Editors-in-Chief. Along...
Dylan Stern, Resident Cartoonist
Hi! I'm a senior and this is my second year as a cartoonist for lamplighter. I love all kinds of art, but my favorite medium is ink. I'm excited to...