Students Lead Candlelight Vigil for Manny Caulk
FCPS families honored the superintendent on Friday night.
On Friday, a few dozen families gathered outside the FCPS building on Main Street to honor Superintendent Manny Caulk after his recent death. 
Attendees held flameless candles, laid flowers at a memorial for Caulk, and wrote postcards for his family. 
Many students and former students spoke at the gathering, including Dunbar graduate Abigail Wheatley, who served on the Superintendent's Student Voice Team and was the first recipient of an annual scholarship sponsored by Caulk and his wife, Christol. 
"He always encouraged me to speak the truth and not be afraid of what everyone thinks," Wheatley said in her speech.
She added that the first Student Voice Team meeting, in which Caulk asked her to speak in front of the group, was "one of the first times I was truly confident in my thoughts as a person and felt that I was validated as a student." 
Other attendees remembered Caulk for his hard work, his commitment to students, and the easygoing way he'd say "Howdy, partner," to colleagues and students. 
View this post on Instagram
After the vigil, Wheatley said she was honored to be invited to be the first speaker at the vigil.
"He ended up being a really close mentor to me and pushing me to places that I never even knew I could go," Wheatley said. "I really loved the man as a mentor, and I really appreciated him as a person."
Taylor Galavotti, a senior at Henry Clay High School, emceed the event. 
"It was, in a word, heartwarming," she said. "To see all of these people come out and share their stories, it went exceedingly better than I could have anticipated." 
In addition to the vigil, FCPS students are honoring Caulk's legacy with a toy drive to benefit elementary school students. New toys can be dropped off at Dunbar between 8:30 a.m. and 3 p.m. from Dec. 10 to Dec. 16.
FCPS has also created the Manny Caulk Memorial Scholarship Fund to continue Caulk's tradition of providing a scholarship to a Fayette County senior. 
There will be a drive-through visitation and celebration of Caulk's life on Saturday, Dec. 12. The visitation will occur from 9 a.m. to 12 p.m. at First Baptist Church Bracktown, followed by a service streamed online. 
About the Contributors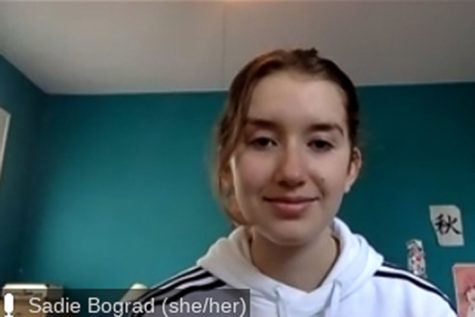 Sadie Bograd, Writing Editor in Chief
Hi! I'm Sadie Bograd, and I'm a senior at Dunbar. This is my second year on Lamplighter staff. I'm now one of the program's Editors-in-Chief. Along...