About Us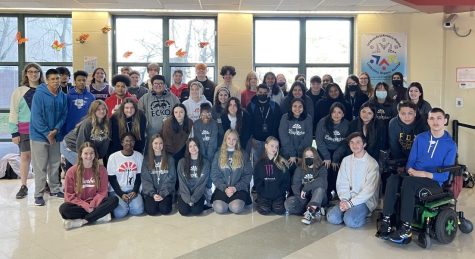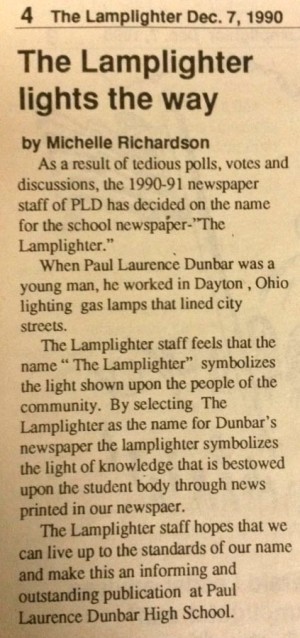 PLD Lamplighter was established in 1990 as the school newspaper for Paul Laurence Dunbar High School in Lexington, KY.
The original school newspaper staff held a school-wide vote to name the newspaper, and in December 1990, The Lamplighter was chosen to represent the school's namesake, Paul Laurence Dunbar, who held a job as an actual lamplighter in his early years. The staff also felt like the name represented the newspaper's mission to "illuminate the news for the students, by the students."
Since 2006 the adviser has been Mrs. Wendy Turner, who was awarded Kentucky High School Media Teacher of the Year in 2014.
For more information about the original staff, check out the 25th-anniversary profile "Where are They Now?"
Honors and Recognitions:
2022 1st place for Best Multimedia Production in the Mark of Excellence Contest
2021 SNO Distinguished Site
2020 SNO Distinguished Site
2019 SNO Distinguished Site
2019 Featured in Washington Post
2019 CSPA Gold Medalist
2019 2nd place for Best High School News Website in the Mark of Excellence Contest
2019 1st place for Best News Story in the Mark of Excellence Contest
2018 SNO Distinguished Site
2018 NSPA Digital Story of the Year
2018 1st place for Best Multimedia Production in the Mark of Excellence Contest
2018 1st place for Best High School News Website in the Mark of Excellence Contest
2018 1st place for Best News Story in the Mark of Excellence Contest
2018 NSPA Digital Story of the Year
2017 SNO Distinguished Site
2017 CSPA Gold Medalist
2016 SNO Distinguished Site
2016 NSPA All-American with Five Marks of Distinction
2016 CSPA Gold Medalist
2016 3rd place NSPA Feature Photo of the Year
2016 1st place NSPA Environmental Photo of the Year
2016 NSPA Best of Show, 4th place
2016 Finalist for NSPA Online Pacemaker
2016 Honorable Mention for CSPA Gold Circle Award in Digital Media Sports Features (story)
2015 2nd place for Best High School News Website, Mark of Excellence Contest
2015 1st place NSPA Multimedia Feature Story of the Year, "Lighting the Torch" serial podcast
2015 Featured in the Lexington Herald-Leader