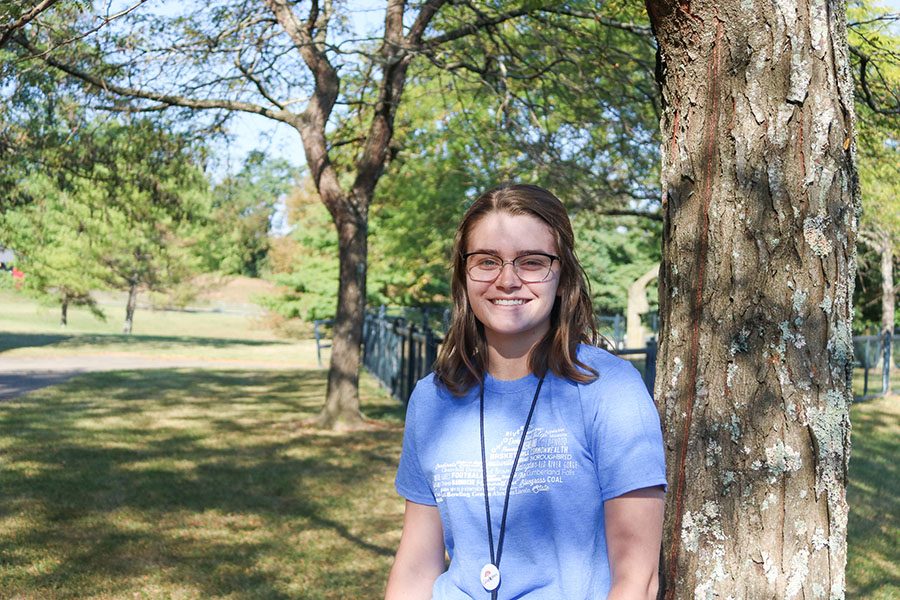 My name is Kennedy Gayheart and I am one of the Editor-in-Chiefs for the 2019-2020 school year. I work closely with our weekly broadcast, WPLD. Last year, I worked as the Executive Producer of WPLD.
I love working with a camera and finding creative ways to tell a story with my shots. I have grown to love broadcasting and film over my last 3 years in the program.
Next year, I plan on attending Western Kentucky University to study broadcasting.
In my time outside of Lamplighter, I like to be outside and enjoy the company of my friends and family. I also really, really love ice cream.
Be sure to tune in next week!
Kennedy Gayheart, Editor-in-Chief
Mar 14, 2020

Athletics Shut Down During Coronavirus Outbreak

(Story)

Mar 11, 2020

KDE Issues Precautions to Stop Spread of Coronavirus

(Story)

Mar 05, 2020

PLD Teachers Run to the Rescue

(Story)

Feb 27, 2020

Dunbar Defeats Lexington Catholic in the 43rd District Semifinal

(Story)

Feb 18, 2020

Driver in Serious Condition after Daytona 500 Crash

(Story)

Nov 07, 2019

Bevin Calls for a Recanvass of Votes

(Story)

Oct 01, 2019

Whooping Cough Case Confirmed at Dunbar

(Story)

Sep 30, 2019

WPLD September 30 Broadcast

(Media)

May 29, 2019

What Would Your Senior Quote Be?

(Story/Media)

May 27, 2019

The Life of a PRIDE Buck

(Story/Media)

May 13, 2019

WPLD May 13 Broadcast

(Media)

May 06, 2019

WPLD May 6 Broadcast

(Media)

May 05, 2019

A Teacher's Influence Changes Lives

(Story)

Apr 30, 2019

Six Ways to Maximize College Scholarship Opportunities

(Story)

Apr 29, 2019

WPLD April 29 Broadcast

(Media)

Apr 22, 2019

WPLD April 22 Broadcast

(Media)

Apr 16, 2019

WPLD April 16 Broadcast

(Media)

Apr 08, 2019

WPLD April 8 Broadcast

(Media)

Mar 25, 2019

WPLD March 25 Broadcast

(Media)

Mar 18, 2019

WPLD March 18 Broadcast

(Media)

Mar 11, 2019

WPLD March 11 Broadcast

(Media)

Mar 04, 2019

WPLD March 4 Broadcast

(Media)

Feb 25, 2019

WPLD Feb. 25 Broadcast

(Media)

Feb 11, 2019

WPLD Feb. 11 Broadcast

(Media)

Feb 04, 2019

WPLD Feb. 4 Broadcast

(Media)

Jan 21, 2019
Jan 14, 2019

WPLD Jan. 14 Broadcast

(Media)

Dec 10, 2018

WPLD Dec. 10 Broadcast

(Media)

Dec 03, 2018

WPLD Dec. 3 Broadcast

(Media)

Nov 18, 2018

WPLD Nov. 19 Broadcast

(Media)

Nov 05, 2018

WPLD Nov. 5 Broadcast

(Media)

Oct 29, 2018

WPLD Oct. 29 Broadcast

(Media)

Oct 22, 2018

WPLD Oct. 22 Broadcast

(Media)

Oct 21, 2018

Metal Detectors Implemented at Dunbar

(Media)

Oct 15, 2018

WPLD Oct. 15 Broadcast

(Media)

Oct 01, 2018

WPLD Oct. 1 Broadcast

(Media)

Sep 24, 2018

WPLD Sept. 24 Broadcast

(Media)

Sep 17, 2018

WPLD Sept. 17 Broadcast

(Media)

Sep 04, 2018

WPLD Sept. 4 Broadcast

(Media)

May 30, 2018

I'm Sorry, So Sorry

(Media)

Apr 30, 2018
Feb 06, 2018

Dunbar's Lockdown Procedures Explained

(Media)

Dec 18, 2017

Soundcloud Features Dunbar Artists

(Media)

Oct 28, 2017

The Student Voice Team at Dunbar

(Media)

Oct 20, 2017

Dunbar Cross Country Prepares for State

(Media)

Sep 12, 2017

Bulldogs Fall to the Commodores

(Story)