Dunbar Bulldogs Face Loss Against Madison Central Indians
After a massive win, the Dawgs face their first loss of the 2021 football season
Coming off a huge win against Breathitt County in the first week of the season, the Bulldogs had a tough go of things against Madison Central this past Friday.
The Dawgs started the game off well with a touchdown to take the lead 6-0 and lead to an eruption in the Dawg Pound.
However, the Indians soon responded with a touchdown of their own on a 46 yard run by Running Back Brady Hensley.
Dunbar later responded with a score of their own to take the lead back 12-7.
With six minutes and 39 seconds left to go in the second quarter, Madison Central's Brady Hensley scored again on a 14 yard run to make the score 12-14.
Madison Central would go on to score once more before halftime to take a 12-21 lead.
With 9:09 left in the third quarter, the Indians scored another touchdown on a 86 yard touchdown catch by Wide Receiver Jayden West.
Dunbar did not quit, despite being down by 15 points, and responded with a touchdown of their own from Running Back Kamarion Robinson to make the score 18-27.
Robinson would end the game with 90 rushing yards on 20 attempts and 3 touchdowns.
Going into the fourth quarter, Madison Central's Hensley scored another touchdown to make the score 18-34.
Hensley would finish the game with 94 rushing yards on 13 attempts and 3 touchdowns. He also had 14 receiving yards on 1 attempt for a touchdown.
Dunbar persisted and scored another touchdown to make the score 24-34.
However, it just wasn't the Dawgs' night, as they could not overcome the deficit and would go on to lose the game 24-34.
The Dawgs finished the game with 205 total rushing yards and 101 total passing yards. They allowed 223 rushing yards and 133 passing yards.
Dunbar Linebacker Mason Hayslett led the Dawgs in tackles with 9 throughout the game.
Junior Quarterback Cole Colony led the team in rushing yards, with 106 on 15 attempts, and scoring 1 touchdown.
Senior Wide Receiver Andrew Jones led the team in receiving yards, with 67 on 2 receptions.
With a win against Dunbar, Madison Central snapped a nine-game losing streak dating back to last year.
The Dawgs will face Woodford County on Sept.3 at Woodford County, their first away game of the year.
About the Contributors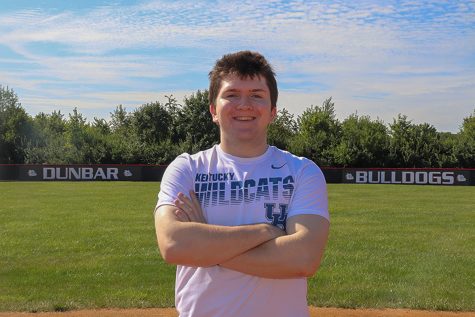 Jacob Hayes, Sports Writing Editor
Hi, my name is Jacob Hayes and this year I am a senior. This is my second year being part of PLD Lamplighter and I am our Sports Writing Editor. As time...