The Importance of School Spirit
Students and teachers are more successful when working in a fun environment.
What is school spirit and why is it so important?
School spirit is created by the atmosphere that students experience every day. It could be as simple as wearing a Dunbar t-shirt or as involved as participating in Homecoming Spirit Week.
As an athlete, school spirit is a form of respect. It shows that students appreciate the hard work and dedication that is put into a sport. Imagine no one showing up to your football game on Friday night, or the bleachers being empty at your basketball game with no cheerleaders to excite the crowd. 
"The Dawg Pound" provides support and excitement for the teams when everyone shows out. Sports events are always more fun when students get involved.
Athletes are not the only students who benefit from a strong sense of school spirit. By coming together as a group to support the school, we form a community. The community combines every student giving them a common goal. This feeling of belonging can spill over into the classroom. Teachers get excited about coming to work because the school spirit is contagious. When students take pride in each other, they are lifting the school to a new level. 
How is school spirit created at Dunbar?
There are many opportunities to express pride in the school. Students can participate or get excited at pep rallies, attend school dances, join a club, go to Senior Tailgate and support Dance Blue. Watching WPLD is another way to show school spirit and get information about events at Dunbar.
The week of Oct. 7, students were able to have fun by dressing up for Homecoming Spirit Week. Every day had a different theme, Money Monday, Twin Tuesday, Western Wednesday, Throwback Thursday and Fluorescent Friday. Students who dressed up set the tone going into the upcoming home football game and dance on Saturday.
On Monday many kids walking around the building were seen wearing green from head to toe. You could hardly tell the difference between them and a dollar bill.
Tuesday, multiple students came to school with outfits that matched their friends. There were many sets of the famous Dr. Seuss' "Things".
Many cowboys and cowgirls were seen on Wednesday. Boots and hats were a very popular choice.
Thursday consisted of the '70s, '80s and 90's all in one day. Many students were seen walking around with old school jackets or sweatshirts.
Friday is not only gameday but also the Senior Tailgate. The theme for the tailgate is neon so it is only appropriate for everyone to come to school in their best neon attire.
Not only were students participating in spirit week, but many teachers around the building came to work dressed up adding to the fun.
Some think that school spirit is not important. Many feel that getting excited about school is cheesy and embarrassing. Some teachers worry about spirit becoming a distraction in the classroom and worry about losing academic time due to pep rallies. 
High school should be more than attending classes and taking tests. School spirit is one way to create a desire to be at school and stay in school. It helps some students understand that they contribute and belong to Paul Laurence Dunbar in some way. School spirit makes school fun.
High school students work hard and deserve to make memories that will last a lifetime.
About the Contributors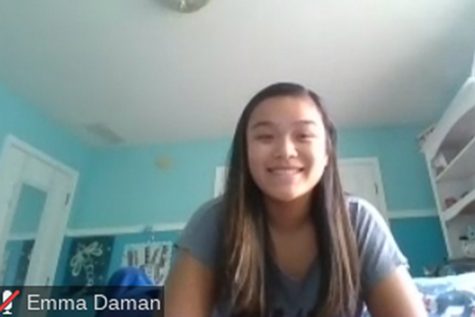 Emma Daman, Staff Reporter
My name is Emma, I am a junior and this is my third year on the Lamplighter staff.

I have always enjoyed writing more than any other subject since I...