Won't You Be My Neighbor?
A new film honoring the life and legacy of Fred Rogers will air on HBO on Feb. 9.
Growing up, I couldn't tell you who Mr. Rogers was. I had heard the name before but had no idea who or what he had done. I never truly understood how special of a man he was until I attended a journalism conference in Chicago.
One of the sessions I went to was dedicated to Mr. Rogers. I walked into the session, eager to learn but had little understanding of how eye-opening and heartwarming it would end up being. I left that session in tears of happiness. My heart was touched in a way that it had never been. I had just learned about a man who dedicated his life to helping children grow up happier, healthier, and more knowledgeable.
Fred Rogers is a name known by so many around the world. Recognized famously from his cardigan and heart of gold, he changed lives.
He was a beloved minister, puppeteer, writer, and producer who presented radically kind ideas daily in his show, Mister Rogers Neighborhood. He, along with his cast of puppets discussed some of life's toughest issues in a fashion that was simple, direct, and gentle.
There was nothing on television quite like Mr. Rogers' show and hasn't been anything to compare since.
He would end each show by saying, "You've made this day a special day, by just being you. There's no person in the whole world like you, and I like you just the way you are."
The most touching moment of the entire session was when I learned about Mr. Roger's connection with a man named Jeff Erlanger. In 1980, Jeff Erlanger was a little boy who came to visit Mr. Rogers on his show. He was disabled, sitting in a wheelchair, but opening up to Mr. Rogers about his electric wheelchair and why he used it.
Mr. Rogers sat there and listened, then began singing a song called "It's You I Like." You could feel the love transcend through the screen; it was truly touching.
But, the most wonderful part was when, 19 years later, Mr. Rogers was inducted into the TV Hall of Fame. Jeff Erlanger came onto the stage, surprising Mr. Rogers so much he leaped from his chair and hopped on stage.
You could see how genuinely happy Rogers was to see Erlanger.
It was such a heartwarming moment. Mr. Rogers made such a huge impact in Erlanger's life just by being kind to him and making him feel human. It was a truly special bond that Rogers had created with one of just many children he interacted with.
Not only did Mr. Rogers make a huge impact on the lives of so many children, but he also helped save public media.
On May 1, 1969, Fred Rogers stepped before the U.S. Senate Subcommittee of Communication and explained what his job was. He was trying to defend public television from budget cuts trying to be made by the government because funding was proposed to be cut in half for television by President Richard Nixon.
Rogers spoke to the chairman of the subcommittee about what he hoped to accomplish through his show. He not only explained the show, but he also shared a song from the show. Mr. Rogers spoke the lyrics of one of his most important songs. The chairman was touched by the song and the speech given by Rogers.
He told Rogers, "I'm supposed to be a pretty tough guy, and this is the first time I've had goosebumps for the last two days," he said. "Looks like you just earned the $20 million."
This is one of the most iconic speeches in the history of public media. Without Rogers, public television would most likely not be what it is today. Journalism would not be what it is today. Rogers charismatic and loving heart helped save public media for then and now.
Fred Rogers did so much to change the lives of so many. To help capture his special memory, a documentary, Won't You Be My Neighbor, was created in his honor. It is set to premiere on HBO on February 9, 2019.
About the Contributors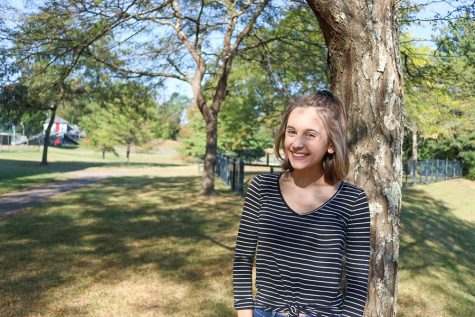 Olivia Doyle, Editor-in-Chief
My name is Olivia Doyle. This is my third year on staff and I am one of three Editors-in-Chief for Lamplighter. Last year, I was the Public Relations Manager...