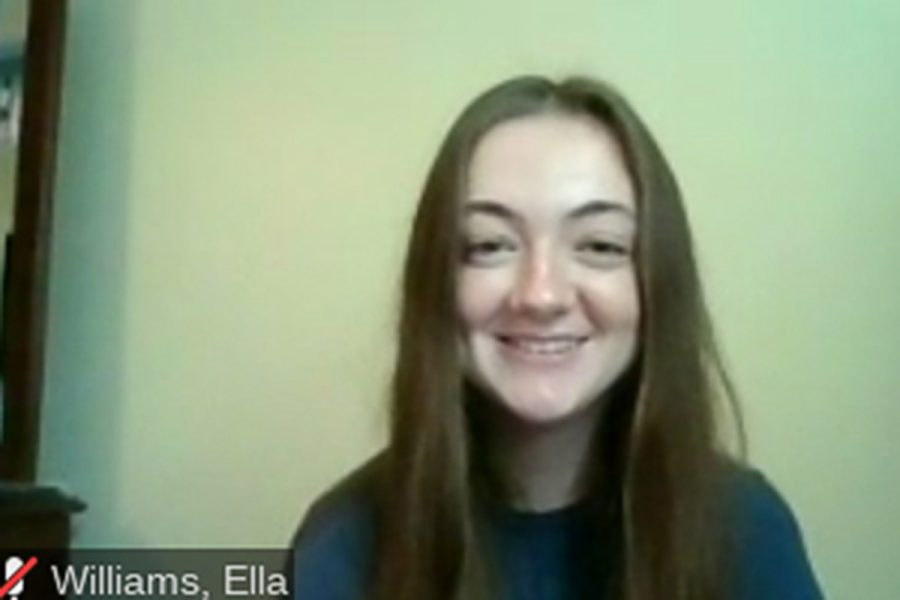 My name is Ella Williams and this is my second year on staff as a junior. This year, I am lucky enough to be working with our broadcast team as the Broadcast Editor. One of my favorite articles that I've written was "Student Voices, New Voices", which was about a new grassroots movement seeking to protect student press freedom. 
Outside of Lamplighter, I enjoy playing with my dog and spending time with my friends and family. I am a huge fan of
The Office
and can often be found rewatching Season 2 Episode 22. I also love to read, especially when I'm sitting outside in my hammock.
This year, I hope to produce high quality content that impacts the Dunbar community. I am so proud to be a part of this amazing program, and I can't wait to see what we do this year!
Ella Williams, Broadcast Editor
Nov 25, 2020

WPLD Nov. 25 Broadcast

(Media)

Nov 18, 2020

WPLD Nov. 18 Broadcast

(Media)

Nov 11, 2020

WPLD Nov. 11 Broadcast

(Media)

Nov 04, 2020

WPLD Nov. 4 Broadcast

(Media)

Oct 28, 2020

WPLD Oct. 28 Broadcast

(Media)

Oct 21, 2020

WPLD Oct. 21 Broadcast

(Media)

Oct 14, 2020

WPLD Oct. 14 Broadcast

(Media)

Oct 07, 2020

WPLD Oct. 7 Broadcast

(Media)

Sep 30, 2020

WPLD Sept. 30 Broadcast

(Media)

Sep 23, 2020

WPLD Sept. 23 Broadcast

(Media)

Sep 16, 2020

WPLD Sept. 16 Broadcast

(Media)

Jun 12, 2020

Sexist Slang: A Trend That Needs To Go

(Story)

Apr 15, 2020

Our Healthcare Heroes

(Story)

Feb 25, 2020

The Legacy She Left Behind: Anita Franklin's Effort Against Gun Violence

(Story)

Feb 24, 2020

New App Educates Students on Dangers of Opioid

(Media)

Feb 24, 2020

Dunbar's Literary Magazine Accepting Submissions

(Media)

Feb 24, 2020

WPLD February 24 Broadcast

(Media)

Feb 18, 2020

WPLD February 18 Broadcast

(Media)

Feb 18, 2020

A Little Kindness Goes a Long Way

(Media)

Feb 14, 2020

Student Voices, New Voices

(Story)

Feb 03, 2020

WPLD Feb. 3 Broadcast

(Media)

Jan 27, 2020

WPLD Jan. 27 Broadcast

(Media)

Jan 08, 2020
Dec 18, 2019

Christmas Music is Superior

(Story)

Oct 23, 2019

Being Vegan in a Meat-Eating World

(Story)

Sep 18, 2019

Bulldogs Take Down Eagles on Senior Night

(Story)

Aug 16, 2019

"The Door is Closed" on Marvel and Sony

(Story)