The Legacy She Left Behind: Anita Franklin's Effort Against Gun Violence
What has changed in regard to guns in high schools across Kentucky?
"Let's choose to live in peace rather than rest in peace," said local gun-violence activist, Anita Franklin.
Franklin was a force for peace who passed away on February 24, 2020.
Franklin's son, Antonio, was shot and killed in 2014. Antonio was an innocent bystander, prompting Franklin to start advocating against gun violence. Since his death, Franklin organized marches and events, spoke publicly against gun violence, and worked together with organizations like Moms Demand Action Kentucky.
In Moms Demand Action, Franklin organized rallies, protests, speeches, and more to advocate against gun violence. She was also able to organize a peace walk in Lexington in 2015.
This past year, Franklin worked closely with the Fayette County Sheriff's Office in community outreach. She was also a member of the "Survivors Council", which assists the Office of the Attorney General on matters related to victims of crime.
On February 24, former Mayor Jim Gray tweeted his reaction to the news of her death.
"Anita Franklin had an irrepressible spirit. After her son, Antonio was killed tragically, even in sadness she wasn't bitter or vindictive or full of retribution. She was passionate instead about ending violence."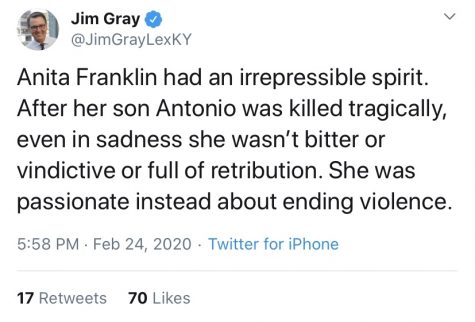 Franklin also spoke about other issues, not just gun violence.
"She talked about not just reducing (and then hopefully eliminating) gun violence, but also just connecting with people, because she felt like some of the issues that led up to our brother's death stem from people not being connected and not having good relationships developed," said her daughter, Laneshia Conner.
Franklin often spoke about the amount that gun violence can impact not only the people related to the victim but also people completely unrelated.
"She showed people that no matter what level you're on, you can still be affected. When you think about a social issue like gun violence, oftentimes if it's not happening to people, they feel like it's not their thing…they haven't experienced it personally. We think that if we don't experience something personally, then it doesn't affect or impact us, but in fact, it's quite the opposite. Every social issue that affects even a single person, affects everybody," said Conner.
Franklin also realized and spoke about the influence of one person's death on a community.
"She was helping people to see that even if you haven't lost someone to gun violence, you are still affected. That's one less person in a job, one less parent in a home, one less teacher in the school. You don't know that when you rob someone of their life, what you took from the world," said Conner.
Franklin's personality "behind the scenes" contributed to her thought-provoking speeches and protests.
"She was very funny. She was witty and very smart. Even as firm and well-presented as she was, she was still just a regular person," said Conner.
"
That's one less person in a job, one less parent in a home, one less teacher in the school.
— Laneshia Conner
Even with Anita Franklin's tremendous efforts against gun violence, has anything changed?
On October 16, 2016, a sophomore at Lafayette High School, Trinity Gay, was shot and killed. She was the daughter of Olympian Tyson Gay and ran track at Lafayette. At that time, staff reporters, Kaden Gaylord and Brooke Bledsoe at PLD Lamplighter wrote an article concerning her death.
"Unfortunately, the shooting is not an isolated event in Lexington and is becoming far too common. Her tragic passing has affected the Lexington community as a whole," wrote Bledsoe and Gaylord.
In response to this, PLD Lamplighter hosted a rally in November 2016 to focus on the rising incidents of gun violence in the community. The rally, "We Are The Change", was put on by Mrs. Wendy Turner and documented by past staff reporter, Julia Radhakrishnan.
"She [Mrs. Wendy Turner] said that the vision for the event was to raise awareness of violence in Lexington, to give student voices a forum, and to give attendees insight into the many community resources available to them," said Radhakrishnan.
At the rally was Anita Franklin. She spoke about the death of her son, and the peace walks that she organized to protest violence. Many students felt inspired by her speech.
"It made me realize how much of a change our community needs," said senior Kate Reese. "It really hit my heart hearing someone from our community who was affected so deeply by gun violence."
This past year, a youth risk behavior survey was taken among high schools in Kentucky. In the results, there was no change for male students that carried a gun from 2017 to 2019. However, there was a decrease in the number of female students that carried a gun from 2017 to 2019.
In total, there was no change in the number of people, regardless of race or gender, that carried a gun with them from 2017-2019.
To go along with this, there have been multiple threats/shootings in Kentucky high schools. In February 2018, a threat was made at Paul Laurence Dunbar High School. Luckily, police were able to arrest the student before any actions were taken. A month later, a student at Frederick Douglass High School accidentally shot himself with a gun that he had taken to school with him. A week before that accident, a gun had been found on a student at Henry Clay High School.
Here at Dunbar, the members of Young Democrats were able to meet with Moms Demand Action in 2019. A member of the club and PLD Lamplighter, Victoria Bravo wrote about the meeting.
"The guest speakers spoke of their organization and what they call "gun sense." The advocacy of gun sense consists not of taking guns away but instead installing precautions such as background checks before buying guns," said Bravo.
One of the speakers in attendance was Linsay Sugarman from Moms Demand Action.
"It's not true that we want to take people's guns away. We want people to have background checks, to have red flag laws, and we're about keeping guns out of bad peoples' hands," said Ms. Sugarman.
Anita Franklin has made efforts to advocate for teens and against gun violence, and people are hopeful that her legacy will continue.
"If everyone would do their part, I think that is what she wanted most out of people… All the things she did, there are plenty of people out there who can pick it up and run with it," said Conner.
About the Contributors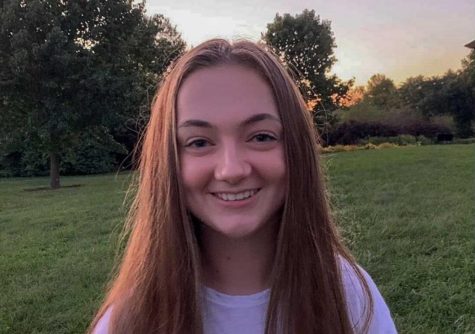 Ella Williams, Editor-in-Chief
Hi! I'm Ella Williams, a senior at Dunbar and one of the Editors-In-Chief of PLD Lamplighter. I focus on our weekly broadcast, WPLD. I have been in this...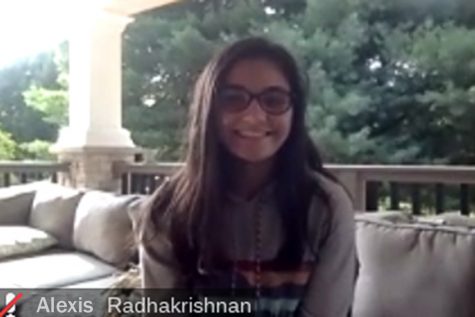 Alexis Radhakrishnan, Staff Reporter
My name is Alexis Radhakrishnan. I am a senior at Dunbar and this is my third year on the Lamplighter staff. I am excited to contribute to the program...