Student Athlete of the Week with LeAnna Williams
This week SAOTW is senior Marshall Nelson, a football player who is also head of the student section, the Dog Pound.
Q: So first of all, you've been playing football for 8 years total. What got you started playing?
A: Um.. so I'm a really physical person with basketball and baseball like the other sports I played, like it's just not the same. With football you literally get to go out there and like lay out and hit people left and right, and it kinda like attracted me to the game.
Q: So in your time playing Dunbar football a lot of players have come and gone, and coaches have changed around. Has it been a hard environment to play in?
A: Um…its definitely been tough because like you have to learn different schemes and come up with different game plans, and a lot of things. It's nice to have that constant which just wasn't there in the 4 years I've been here. But at the same time you can look at it a different way. It teaches you like life lessons as things come and go throughout your life; you gotta roll with that.
Q: So this year you also had a set back due to injuries. How did that affect your season?
A: Uh.. yeah.. my nose is like shattered. So I had to get surgery which was rough, and that made me miss almost half the season. So when I got back conditioning was a really big factor because I play both ways so I didn't get much of a break during games. It was rough my first game back.
Q: So I know you're in a lot of advanced classes, you play football and you also play basketball. How do you balance keeping up with good grades and being successful on the field?
A: So I think the big thing is while you're at school getting as much done as possible to take off that weight you're going to have after school. Because after school you're going to have two hour practice, you're going to have to go home and you will have to eat at some point because if you don't eat practice is going to be just horrible. So you're just going to have to take your time throughout the day and break it up.
About the Contributors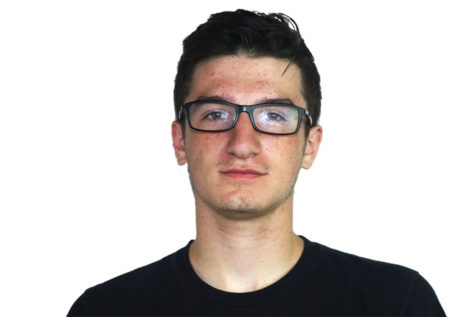 Andres Gedaly, Staff Reporter
This is Andres' first year on staff and he is interested in film and music.