Spalding Shines as Dunbar Trumps LCA
Dunbar defeats LCA 53-47, and improves record to 9-10.
On Jan. 27, Dunbar defeated Lexington Christian Academy (LCA) 53-47 in a hard-fought district win, improving their record to 9-10 and placing them at 6th in our 19-team region. 
The score was held close throughout the whole game, with the largest deficit being 6 points at the end of the game. At the half, the score was 22-19. Both teams about doubled their points in an offense-heavy third quarter, tying it at 40-40. LCA's offense slowed down in the fourth quarter – only scoring 7 points – and the Bulldogs pulled away.
The Bulldogs were coming off a blowout district win against Lafayette just two days prior on Coach Murray Garvin's birthday.
"I just told the guys, 'man, you make my birthday by getting a W', and they went out and did that," Garvin said.
Despite LCA coming into the matchup at a 6-17 record, and the Bulldogs winning 74-62 in their first meeting, the Bulldogs had to be ready for a tough game.
"This team beat Frederick Douglas last Friday, and Douglas beat us by double-figures. So, we gotta come out ready to play and keep building off of what we did at Lafayette," Garvin said.
From the other side, LCA's Coach Ted Hall said, "We just need to make some shots. They're just so big and physical. We just hope to compete with them." 
Hall referenced Nick Spalding, who recently joined the exclusive 1,000-point club as only a junior.
"He's a good one, but they've got a lot of guys that can shoot, so it's a tough matchup for anybody."
Spalding went on to steal the show, shooting 8-16 and finishing with 25 points and 4 rebounds. He has now scored at least 23 points in 10 of 19 total games.

As he continues his tear, Spalding continues to solidify his position as one of the top Class of 2023 prospects in the state.
"
This team beat Frederick Douglas last Friday, and Douglas beat us by double-figures. So, we gotta come out ready to play and keep building off of what we did at Lafayette,
— Coach Garvin
Coach Hall's concern of the size and physicality of the Bulldogs was confirmed as the big men had big games. 6'8" senior Lionel Kumwimba finished with 6 points and a season high 14 rebounds. Kumwimba now has 10 rebounds in 7 of 19 games.
6'4" senior Zach Carter finished with 12 points and 5 rebounds.
On his night, Kumwimba simply said, "I just enjoy playing the game of basketball."
Lionel Kumwimba's story is greater than just basketball.
In November, 2017, Kumwimba emigrated from Congo to pursue an education and have the opportunity to play the game of basketball. On the transition, Kumwimba said, "It was so hard at the beginning, knowing that I was leaving my family, my friends, and food. And, I didn't know any English even though I speak 5 languages. The transition wasn't easy at all."
Kumwimba can speak French, Swahili, Lingala, Kiluba, and now English.
LCA's leading scorer, junior Tyler Hall, finished the night with 15 points.
"It was a well fought game, and I felt like both teams played their hearts out. It hurts to lose a close one but we'll learn from it and bounce back," Hall said after the game.
With only 6 games left in the season, the playoffs are coming up soon.

The teams in Dunbar's district and their ranks in the region are: Lexington Catholic(1), Dunbar(6), Tates Creek(9), LCA(15), and Lafayette(16).
Coming off two big wins, everyone should expect Dunbar to carry their momentum into Saturday's matchup with Lexington Catholic.
About the Contributors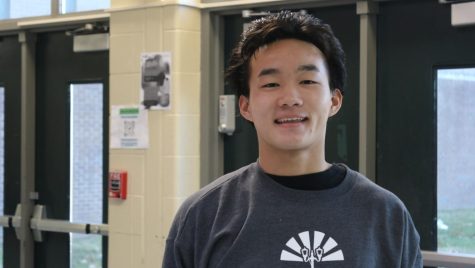 Nathan Zhu, Sports Editor
Hi, I'm Nathan! This is my second year on staff and my first year as the Sports Editor. One of my favorite things to do is watch and analyze sports, but...