PLD Girls' Basketball Takes Down Great Crossing
The Bulldogs defeated the Great Crossing Warhawks 58-53.
The game on Dec. 3 had an electrifying start right off the bat. Great Crossing scored a 3-pointer that set the pace for the rest of the game. Not shying away from confrontation, Dunbar's #11 sophomore wing Amber Brandon scored 2 points. #13 point guard Aziah Campbell scored another two points on the following possession.
Great Crossing racked up 17 fouls which gave the Dawgs numerous opportunities for free throws. Aided by numerous interceptions from #13 Aziah Campbell and #3 senior Quinn Arnold, the first quarter concluded with the Dawgs in the lead.
The second quarter was much the same, as the Dawgs continued to dominate on the court. This quarter was filled with fast breaks from both sides of the court. #4 senior Maddy Ridge shut down a fast break as she blocked a shot coming from Great Crossing. The Dawgs were up 29-20 at halftime.
Mirroring the start of the first half, Great Crossing started the second half with another 3-pointer. Great Crossing seemed more revved up this quarter as #2 senior Timothi Williams scored several points effectively closing the score gap. 
However, Dunbar didn't give up as they continued racking up points with shots from #11 Amber Braydon and #1 sophomore Bella Rusing. Going into the 4th quarter, the score was 36-35. Players and spectators alike were feeling palpable tension in the air. 
In the 4th quarter, Great Crossing managed to pull ahead 36-38. Then, #11 Amber Brandon scored 7 points consecutively to make the score 43-38. She then scored another 3 after Great Crossing scored to make the score 46-40. Following Brandon #13 Aziah Campbell scored a point from a free throw.
Dunbar's lead didn't stay for long as Great Crossing managed to make it a 4 point difference with a 3 from #1 Rachel Smith. 
With 43.7 seconds left in the fourth quarter, #13 Aziah Campbell got hurt and had to exit the game. However, went right back in to continue playing for the win. #3 Quinn Arnold made both her free throws to make the score 54-49.
With both teams making the most of the last few seconds the final score came out to be 58-53 and the Dawgs continued to demolish the competition. 
After the game Head Coach Nick Runyon expressed his pride for the team. "[The game] went great, we played hard, they're very coachable, and we executed when it mattered," he said  
The Dawgs look to carry the momentum from this win into their next game against Lexington Christian on December 7. 
About the Contributors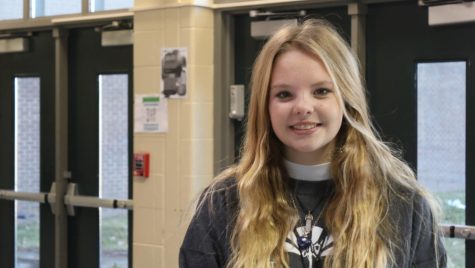 Trinity Kays, Editor-in-Chief
Hey I'm Trinity!!! Writing and journalism have always been a passion of mine. I love being able to express myself through my words especially when I sometimes...