Bulldogs Pull Out a Win
On Sept. 26, PLD had a1-0 Win Over the Lafayette Generals.
The game began with a kick-off by Dunbar followed by a freekick from Lafayette after a foul by Dunbar.
Dunbar earned themselves a corner kick after Lafayette kicks the ball out of bounds. The kick was taken by #3 Jason O'Hara. Dunbar earned themselves another corner kick, which was taken by #19 Adali Diaz. 
At the 7th minute, Lafayette fouls Dunbar, which gave Dunbar a goal opportunity with a free-kick. Within a minute, Dunbar gains another opportunity for a goal when they were given a corner kick by #3 Jason O'Hara. The opportunity was blocked when Lafayette's goalie stopped the shot. 
#10 Drew Doza took a shot at the goal but it was blocked by the goalie. Dunbar then makes a substitution. Soon after, Lafayette takes a shot on Dunbar's goal, but the kick was too high and sailed over the crossbar. 
#19 Adali Diaz takes a throw-in for Dunbar, but afterward, Dunbar fouls a Lafayette player and earns Lafayette a free-kick.
In the 22nd minute, #14 Issac Cano scored a goal for Dunbar making the score 1-0. Multiple shots on goal are blocked by the Lafayette goalie in the 28th minute, but Dunbar takes advantage of another goal opportunity, and the shot is blocked by the Lafayette goalie.
Lafayette then tried to take a shot on Dunbar's goal, but that goal was blocked by our goalie.
Throughout the first half, Dunbar plays with a very aggressive defense, which helped them keep the ball on Lafayette's half. This also gave the offense multiple opportunities to score a goal. 
The second half began with a kickoff from Lafayette who then has a shot on goal, but the kick was too wide leading to a goal kick for Dunbar. Lafayette takes a throw-in and commits a foul on the play giving Dunbar a free-kick.
The free-kick is blocked by the Lafayette player who kicks it out of bounds by their goal giving Dunbar an opportunity to score another goal.
In the 10th minute, Dunbar receives a handball which gives Lafayette a free-kick. Soon after, they receive a handball giving Dunbar a free-kick.
Lafayette's player receives a yellow card which provides an opportunity to score a goal, but the ball goes wide.
#9 Ben Oser gets an injury on the play, so #11 Esoso Kaumba replaces him on the field. Dunbar has a goal kick which then turns into a free kick in the 20th minute.
Dunbar has various attempts to score on goal, but all are stopped by the Lafayette goalie. In turn, Dunbar began to play a more aggressive front opening them to more opportunities to score and they continue to block all of Lafayette's goal attempts. Then Lafayette's #4 receives an injury. 
In the last 5 minutes, Dunbar takes advantage of every opportunity to increase the goal difference and at the end of the 80 minutes, Dunbar came out on top with a 1-0 score.
PLD is now the number one seed in the 43rd District Tournament.
About the Contributors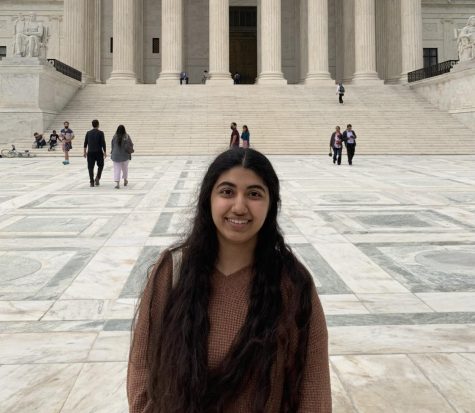 Nimi Bala, Editor-in-Chief
Hi! I'm Nimi, I'm a senior and this is my third year in Lamplighter. This year, I am one of four Editors in Chief for the program. I spent my first...