Becoming Editor-in-Chief
Upcoming Editor-in-Chief Olivia Doyle reflects on her new position.
When I received the call telling me that I was becoming one of the three upcoming Editors-in-Chief for the 2019-2020 school year, I was in a state of shock.
I was on vacation with my family when decisions were being made about editors for this coming school year. My phone lit up with an incoming call from a (859)-351 number, knowing that's the number for every phone call coming from Dunbar.
My heart stopped for a solid second, dropping into my stomach from nerves. I had some pretty amazing people that applied for the same position and at that point in time, there were only two Editors-in-Chief being picked.
I picked up the phone, trying to slow my breathing and stop my nerves from getting the best of me. Mrs. Wendy Turner, the Lamplighter adviser, was on the other end of the phone call with this year's Editors-in-Chief. From the sound of the conversation, bad news didn't sound like it was coming my way.
I was told that things were changing this year, that there would be three Editors-in-Chief rather than two, and that I was going to be one of them.
I was over the moon excited, ready to see what was to come and what new adventures we were going to take.
About a month after I had received that phone call, we had some of our staff and editorial board resign, one of them being an Editor-in-Chief.
I was called not long after and asked if I would be willing to step up into the position of Editor-in-Chief early. I was the only one of the three Editors-in-Chief chosen for next year that was in both A and B day classes this year.
If I'm being honest, my teacher and fellow Editor-in-Chief having enough faith in me to entrust part of the program when my experience was sparse was mind-blowing.
Being promoted to a high-power position with no experience was a nerve-racking thing to say the least, but it taught me so much more than I could have ever imagined.  
My life changed in the best way possible due to the promotion.
Going into next year, I am so excited to see what new, life changing adventures come my way with my two fellow Editors-in-Chief.
About the Contributors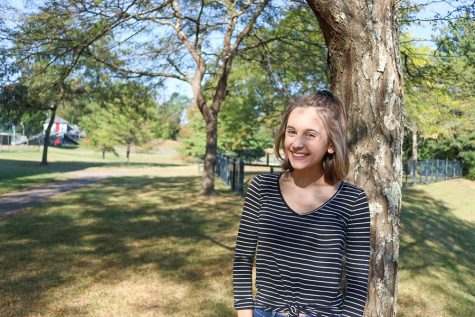 Olivia Doyle, Editor-in-Chief
My name is Olivia Doyle. This is my third year on staff and I am one of three Editors-in-Chief for Lamplighter. Last year, I was the Public Relations Manager...