I Miss My International Family
Social distancing, wearing a mask, no large gatherings, and minimal travelling are just a few of the things that we have adjusted to throughout the year.
For most, not being able to travel has been hard, since traveling is something that so many people look forward to for vacations. For others, it is heartbreaking that they are not able to travel to see their loved ones.
Many families, including mine, were looking forward to traveling abroad last summer to see family. My dad, mom, sister, and I are the only people on both sides of my family that live in the United States. Everyone else lives in Mexico so it is always the best time to see most of my family when we go.
Of course, with COVID, it is dangerous to go on a plane and travel out of state, let alone travel to another country. Not traveling isn't only for the safety of the parents and children but also for grandparents since those of an older age are at a higher risk of getting severe COVID and passing away from it. 
Although viruses and germs do not spread too easily on planes because of the air circulation and the way air is filtered, planes are typically very crowded and not socially distanced, which is why sitting on a plane has high risks for getting COVID.
Not being able to see family for so long and have big celebrations together is always very hard. My family loves to party, sing, and dance together when we all get together. We celebrate all the missed birthdays and we really just spend as much time as we can talking about all the events that we cant enjoy together as a family.
Even families who aren't international had to distance themselves from family members that live in another state or even another county. 
Luckily, technology is always a good solution. For birthdays, holidays, and little celebrations, families have learned to use FaceTime, Zoom, Skype, and many other applications to see each other and connect with each other.
"For me, not being able to see my family for so long has forced us to adopt other means to stay in touches such as WhatsApp and Facetime," my father said. "While obviously, it is not the same as seeing them in person, we are able to stay close as we know what's going on in our lives." 
My mother and sister agreed that it is difficult not to see family as often as we wish we could, but as life hits us with unexpected challenges, we learn to adapt. 
"Travelling during COVID is so difficult now since we have to wear a mask as soon as we get in the airport and can't take it off until we get to our destination. Needing to get and have proof of being COVID-free is all an inconvenience but also very necessary to put a stop to this pandemic," my sister, Andrea Alonso, said. "I believe everyone has learned not to take such simple things for granted because now we see how fragile life really is." 
So many families have been affected deeply because of this pandemic and everyone is ready to see their loved ones without having to worry about giving or getting COVID after a gathering. But for now, we will have to stick with greeting each other through a screen and depend on technology to stay connected.
About the Contributors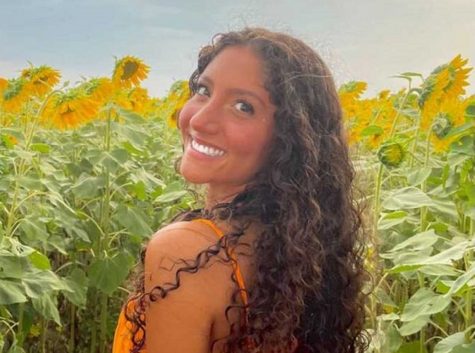 Vanessa Alonso, Staff Reporter
I am a Senior this year at Dunbar, this is going to be my third year on Lamplighter as a  Staff Reporter. I most enjoy being behind the camera doing photography...