Blog: A Look Back at My Year
Andy Cobb takes a walk down memory lane in this blog about the past school year.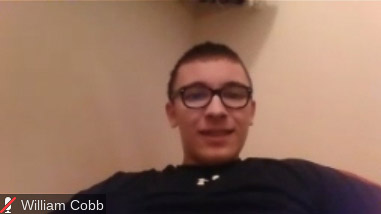 This past school year has been a fun ride for me personally.

On my first day back, I was worried we were gonna have boxed lunches, but my worries went away as the delicious school lunch was accounted for. I wish they would have served wings more often, but I suppose calzones and Bosco sticks are good enough.
I discovered how good honey mustard was and dipped everything in it. It was that good. They also didn't seem to mind me getting two chocolate milk, and I would never leave the cafeteria thirsty as a result.

My classes were, for the most part, pretty fun.
I love my World History class with Mrs. Myers. Learning about World War II was the time of my life, and learning about World War I was fun as well to a lesser extent. We sometimes got to watch movies based on the events we were learning about.
Speaking of movies, I had film studies and that was fun, too. I'm not one who likes to go out of my way to watch movies, so the only way I'll find something new is if it's against my will. Every movie we watched there has me interested, and I look forward to seeing them again once I get the means to do so.
My English class was fun too, and apparently, I was in the best class.
My teacher, Mr. Janbakhsh praised us to high heavens saying we had the best-written essays out of any other class he taught.
But there were also my less than favorite classes like Chemistry and Life Skills. Chemistry is just boring, but Life Skills is just frustrating. I'd take boring any day over frustrating because at least it's doable. Sewing is one of the most monotonous tasks without a machine. There's a reason designers use machines over hand; it's faster. But overall, none of my classes aside from that really upset me.
I don't like how the school gets terrible reception, so I end up being isolated from the outside world until 3:30 when I'm on the bus. I don't know whether it's a problem with my service provider AT&T or the school being in the middle of a field, but it upsets me when I can't talk to my friends online.
At the very least, I can use my assigned Chromebook for entertainment.
With my Chromebook, I like to listen to music and sometimes bang my head to old songs like "Rasputin" or watch cooking videos of Korean street food, or watching this funny YouTuber called Sebee. They hold me over until the next class starts or the day is over.
When they dismiss us, they always call student drivers first, but it's not like they'll check to see if the students really do drive, so I've started to leave right when they call them. Even if the busses don't leave until minutes after they dismiss bus riders, I do at least get service again. 
In conclusion, my year was pretty fun, and I'm sure I'll look back with fond memories on it for my except Life Skills course.