Thank You, Mom
A message to my hero showing how much I appreciate everything she has done and continues to do for me.
Thank you, mom, for making that decision to bring a 14-month-old baby girl home from China 14 years ago. Thank you for giving me the opportunity to make a life for myself. You knew this decision would be life changing for both the family and me, but you didn't let that stop you from doing what God told you to. Without being adopted, who knows where I would be today.
Thank you, mom, for giving me a chance to try different sports and activities and letting me find what I love. From soccer, to dance, to gymnastics, to horseback riding, to swimming and I could go on. You never failed to support me with what I was doing. You always put my happiness before what you wanted me to do even if that meant quitting and finding something new.
Thank you, mom, for the countless rides you've given me and money you've put in for me to do what I love and have fun while I'm doing it. I know you're excited for the day I can start driving myself places, even if you don't admit it. I cannot be more appreciative for the money and dedication you have put in for me to do all the sports and activities I love.
Thank you, mom, for putting up with my attitude and stubborn personality. I know I can be very difficult to deal with and I know I make you very frustrated, but you love me through it no matter what. I apologize for all the arguments I cause, but I thank you for finding a way to put up with every single one.
Thank you, mom, for teaching me the difference from right and wrong and raising me to be disciplined. You never fail to let me know when something I'm doing is wrong, without that I would be a mess. You taught me to be self-disciplined and that is a big part of the person I am today.
Thank you, mom, for raising me to be a follower of Christ. You have always and will always remind me that God loves me no matter what even if I feel differently. You have raised me to be a leader towards others and to do what Jesus would do. You and dad have taught me to love everyone even if they get on my nerves. You have shaped who I am today and have taught me to never lose sight of who I am and whose I am.
Thank you, mom, for being a good role model I have no doubt to follow. You and dad have always made sure your actions are ones that you want your kids to follow. This has reassured me of right and wrong and has given me examples of how I should act. I have always been told to treat others the way I want to be treated and you never fail to show me that on a regular basis.
Thank you to all the mothers out there. Your endless love and support for your children definitely does not go unnoticed. Lastly, thank you, mom, for making me who I am today and thank you for just being you.
About the Contributors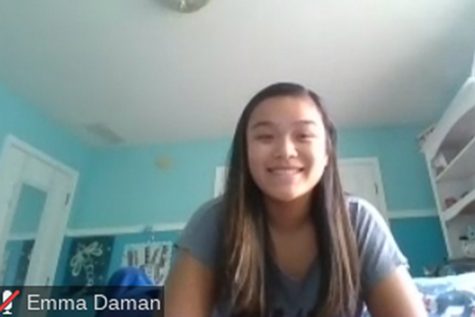 Emma Daman, Staff Reporter
My name is Emma, I am a junior and this is my third year on the Lamplighter staff.

I have always enjoyed writing more than any other subject since I...