Five Ways to Spend Valentine's Day
Worried about plans for the most romantic holiday of the year? We've got you covered.
Many people agonize over what to do for Valentine's Day, and to help reduce the stress, here are 5 unique ways to celebrate the holiday. 
1) Watch a Movie
One of the simplest ways to spend Valentine's Day is to watch a movie. You can go down the traditional route of watching a movie such as The Notebook or Romeo and Juliet, or you can watch a sad movie, a rom-com, or even a thriller. However, if you aren't in the mood to watch a movie, or simply don't want to, you could binge your favorite TV show on Netflix, Hulu, or Disney+  while eating a box of chocolate.
2) Go to Dinner
Another classic way to spend your Valentine's Day is to have a special dinner, either by yourself or with your significant other. Whether it's a romantic dinner at The Cheesecake Factory or a take-out dinner from Panera with your friends, an effortless dinner date will never go out of style and is another basic way to spend your Valentine's Day.
3) Take a Romantic Stroll
Going for a walk on a beautiful day is something that is equally enjoyable, and a great way to spend your day. It is something that helps you destress and get away from the chaotic world of high school, as well as another simple way to get to know someone better or spend an evening talking together. It is also a great way to get off of your phone and enjoy the fresh air for a bit.
4) Have a Picnic
Picnics are an effortless, yet romantic way to spend the day with your significant other. Nothing beats sitting under a beautiful tree and having an amazing meal to celebrate Valentine's Day. This time of year, it can get pretty cold outside, so you can switch it up and have an indoor, home-cooked meal, or set up a small tent outside in your backyard for your picnic.
5) Have a Self Care Day
An amazing way to spend this holiday is to take a day to take care of yourself. You can do various things for a self-care day, such as doing a facemask, getting your nails done with your friends, treating yourself to a spa day, or getting together with your friends after school. 
No matter how you spend the holiday, have fun doing it.
About the Contributors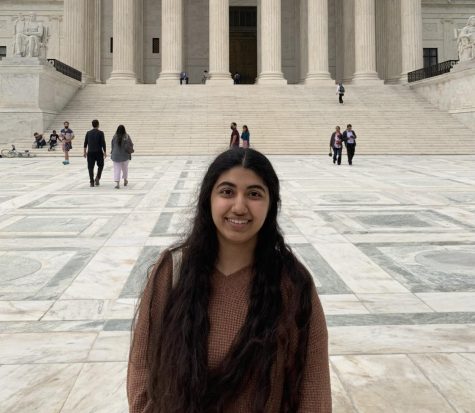 Nimi Bala, Editor-in-Chief
Hi! I'm Nimi, I'm a senior and this is my third year in Lamplighter. This year, I am one of four Editors in Chief for the program. I spent my first...