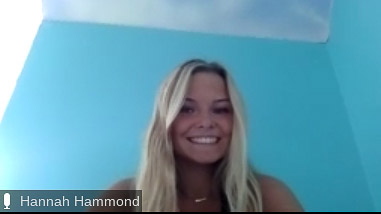 My name is Hannah, I am a senior at Dunbar this year, and this is my third year being on staff with Lamplighter. Last year I was on the editorial board as the public relations manager, and now I am this year's Human Resources Manager. I really enjoy getting the chance to write feature articles for this publication. I originally joined lamplighter thinking I would take the photography pathway, but quickly realized that I had a passion for people. I love talking and getting to know everyone I meet. Lamplighter has given me an opportunity to experiment in the world on PR and HR, which I am hoping to pursue a career in. 
In my free time I play varsity lacrosse for Dunbar as well as for a club team. I enjoy spending time with my friends and family, listening to podcasts, and traveling!
My last two years with Lamplighter have been a blast and I am so excited for my last year on staff. I know we can accomplish great things. 
Hannah Hammond, Human Resources Manager
May 01, 2020

Whitney Houston Finally Added to Rock and Roll Hall of Fame

(Story)

Mar 08, 2020

7 Days of National Holidays

(Story)

Dec 04, 2019

10 Tips For Surviving a College Visit

(Story/Media)

Oct 23, 2019

Dunbar Loses District Championship

(Story)

Oct 23, 2019

Dunbar Suffers Season Ending Loss to Lexington Catholic

(Story)

Sep 09, 2019

Dunbar's New Phone Policy

(Story)

Apr 26, 2019

Avengers Ending is Bittersweet

(Story)

Sep 07, 2018