10 Tips For Surviving a College Visit
Junior year is the year that most students begin going on college visits and start narrowing down a list of colleges they are considering.
For juniors and seniors, picking a college can be a very stressful decision, but college visits make the process a lot easier for students who are feeling overwhelmed. As a junior, I have already started attending college tours, most recently the University of Mississippi. Here are some tips that, in my experience, are helpful when attending a college visit.
Tip #1: Have a list of schools that you are interested in visiting. That is the best starting point when dealing with college. Make sure to prioritize the ones you are most seriously considering and visit those first. 
Tip #2: If you can, dedicate a day just to explore the town or city that your college is located in. After all, this is the place where you are going to be spending the next four or more years of your life. You want to be able to enjoy the area around the college just as much as the college itself.  My Ole Miss visit began a day before the actual tour, and my family booked a room in Oxford so we could spend a day exploring. 
Tip #3: Pay attention to the things available at the student center, food, apparel, study rooms, etc. The Dean of Administration started our tour by talking with us about all the school has to offer as well as the information students will need to know about the application process.
Tip #4: Take very detailed notes during the informational session. This might be the most important part of the tour. The amount of information regarding the majors, special programs, ad financial aid can be overwhelming, so it's important to make sure you take notes. 
Tip #5: When you find out about the school's academic potential, evaluate if it is has everything you are looking for. Does it offer what you plan to major in? Does it have what your backup major is? 
Tip #6: Pay close attention when they discuss financial aid and scholarship opportunities. College is astronomically expensive, but there are ways to pay for it. There are numerous scholarships out there for a number of different things. No one wants to have a load of student debt to pay off. After the informational session, we headed to the actual campus tour. We toured the entire campus hitting every building, special program housing, and administration office on campus. While walking/riding through the campus, your tour guide (which is typically a student) will share their personal experience as a student on campus. 
Tip #7: Ask as many questions as you can. No one is going to know more about student life at a college than a student at that college. Anything that pops into your head that you think you might need to ask, don't wait to look it up later or think it's not important. Take advantage of the resources in front of you. Make sure you are also taking notes throughout the physical tour of the campus. 
Tip #8: Take note as to how big the campus is. Will you have to take a bus to class? Are you in walking distance from everywhere on campus? Is it necessary to bring your car with you to college? After the Campus tour, we headed to the dorms. The housing situation is different at every college. Some colleges only have one type of dorms and others have different levels of housing plans you can pay for. Some colleges require freshmen to stay in the dorms and some colleges do not.
Tip #9: When touring the housing at your college, learn about them as much as you can. What appliances should you bring? Are they co-ed? Can you hang anything on the walls? How does roommate selection work? What is the distance to your classes? After we wrapped up the housing tour, we made it back to the student union for a college major and special programs fair. This was an opportunity to talk to students and professors in a particular major or program. I received pamphlets, booklets, and even merchandise. All schools may not have this included in their college visits but if they do take advantage of it.
Tip #10: Finally, have fun and relax. Make sure you are getting the feel of the environment of the campus. Ask yourself if this is the place where you want to continue the next chapter of your life.
About the Contributors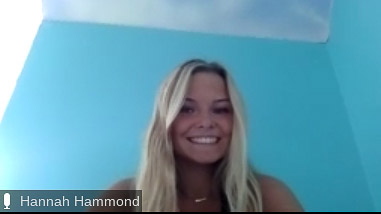 Hannah Hammond, Human Resources Manager
My name is Hannah, I am a senior at Dunbar this year, and this is my third year being on staff with Lamplighter. Last year I was on the editorial board...