Kobe's Impact on PLD's Basketball Players
What the basketball players at Dunbar have to say about the death of Kobe Bryant.
The death of NBA legend Kobe Bryant along with eight others in a helicopter crash was a shock to the nation on Jan. 26, 2020.
Bryant's memorial service was held on Feb. 24 at the Staples Center where people came to pay tribute to the icon. Beyonce and Alicia Keys performed along with Michael Jordan, Shaquille O'Neal and Vanessa Bryant's speeches.
The tragic accident impacted people around the nation, even those who weren't familiar with Kobe and has specifically impacted the basketball community. Many of the basketball players at Dunbar took it personally.
"I think a lot of people who weren't even basketball fans knew who he was just because he is that iconic" sophomore boys' basketball player Robby Todd said.
Many people nationwide are still mourning the loss of Bryant and the other eight passengers. Some are taking this as an important lesson to love those in your life because a tragic accident can happen to anyone.
"The accident has definitely caused me to take a step back and become more grateful for the moments in my life," junior girls' basketball player Emily O'Nan said.
Others agree to the fact that no one can predict what is going to happen day by day, so the best thing to do in life is to enjoy every moment especially with your loved ones.
"The news of Kobe's death impacted me by teaching me that life is very short and the little things in life matter the most," junior girls' basketball player Tanaya Cecil said.
Kobe Bryant was a role model for many of those who enjoyed the sport and showed what it meant to be a team player on and off the court. Many of the boys' and girls' basketball players at Dunbar modeled themselves after his selfless actions. 
"To always hear his stories about how hard he would work made me want to work just as hard," sophomore boys basketball player Cade Hilt said.
Bryant experienced many career highs including entering into the NBA straight after high school, playing professionally for the Los Angeles Lakers for 20 years, winning five NBA championship games, winning two Olympic gold medals for men's basketball, making it as number four on the NBA All-Time Scoring list, creating Mamba Sports Academy and winning Academy Award for best short animated film for "Dear Basketball."
Above all of the skill and talent, most would say Bryant's attitude led him to his successes.
"I always had a deep respect for how he played the game. His mentality can't be matched and that's why I think he was so special," senior boys' basketball player Dylan Spalding said.
Bryant set an example of what it looks like to have a good attitude even when it might be tough.
"His attitude and the example he always showed definitely motivated myself and others to show leadership and to never give up, especially on the court. Many people have taken a look at their lives and tried to better themselves in honor of him," O'Nan said.
Gianna Bryant, 13, was a passenger killed by the helicopter when it crashed. Many people are also mourning the loss of Gianna because she was just beginning her basketball career that had to end at such a young age. She looked up to her dad as a role model and coach in not just life but basketball, too.
"Gianna's death also impacted me due to her not being able to grow up and live her dreams of being in the WNBA, which also pushes me to work harder and to try and do what she wasn't able to do," freshman girls' basketball player Madison Jones said.
On the same day fans gathered to remember Kobe and Gianna Vanessa Bryant's lawyers filed a lawsuit against Island Express, the company that operated the helicopter her husband, daughter and seven others were on during the crash.
According to  an article in the Washington Post, the suit alleges that "defendant Island Express Helicopters authorized and/or permitted a flight with full knowledge that the subject helicopter was flying into unsafe weather conditions."
Many people will continue to grieve alongside the families of the nine killed in the helicopter crash. Kobe Bryant's legacy will continue to live on.
About the Contributors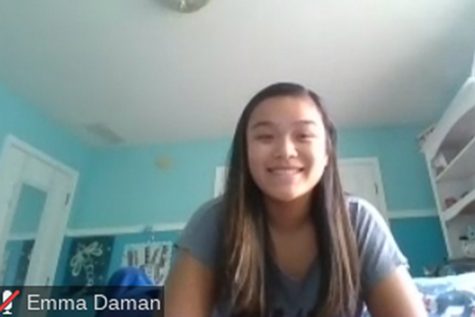 Emma Daman, Staff Reporter
My name is Emma, I am a junior and this is my third year on the Lamplighter staff.

I have always enjoyed writing more than any other subject since I...