Basketball Legend Kobe Bryant Killed in Helicopter Crash
The sudden death of the beloved former basketball player and eight others sent shockwaves across the world.
NBA basketball legend, Kobe Bryant, died at the age of 41 in a helicopter crash in Calabasas, CA  on the morning of Jan. 26. His thirteen-year-old daughter, Gianna, was with him.
Others who died in the crash included Orange Coast College baseball coach John Altobelli, his wife, Keri, and his daughter, Alyssa. The group was on their way to Bryant's Mamba Sports Academy so that the girls could compete in the Mamba Cub Tournament.
Bryant, who was drafted out of high school and who played his entire 20-year career with the Los Angeles Lakers, was admired by fans all over the world. The youngest player in NBA history at the time of his debut in 1996, his career included several honors such as 11-time All-NBA First Team, 18-time All-Star, and he was a two-time Olympic gold medalist. When he retired, the Lakers also retired his jerseys #8 and #24.
He was also an advocate for youth basketball, was planning to assist in coaching their team. Gianna "Gigi" Bryant was admired as a talented player herself. During an interview with Jimmy Kimmel, Bryant said that Gigi "for sure" wanted to play in the WNBA.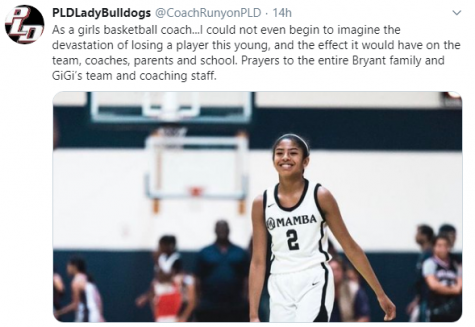 Sports site, The Athletic, tweeted in support of Gigi's potential. "She had her whole life ahead of her, and she does not deserve to be remembered for the way she died."
At Dunbar, reactions from those who loved Bryant and the sport reveal his legacy and the love of basketball he and his daughter shared.
PLD's head girls' basketball coach, Mr. Nick Runyon, also tweeted about the tragedy. "As a girls' basketball coach, I could not even begin to imagine the devastation of losing a player this young, and the effect it would have on the team, coaches, parents, and school."
As students heard the news, an outpouring of respect and dismay flooded social media. Dunbar's Dog Pound" Twitter account for the student section at sporting events tweeted, "ik we supposed to be a student section account but RIP KOBE."
Others in Lexington also mourned his loss.
Lafayette's head principal, Mr. Bryne Jacobs, tweeted a photo of Kobe AD's with the caption, "These just feel right today," and Lexington Catholic Basketball account tweeted, "Rest In Peace Kobe Bryant. May God bless your family in their time of need."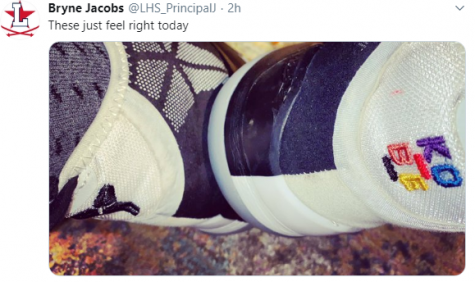 Other professional athletes tweeted heartfelt messages. For instance, National Women's Soccer League's Megan Rapinoe posted, "Heart going out to the Bryant family right now."
Notably, Lebron James was shown crying after exited the Lakers' team plane in Los Angeles.
Less than 24 hours before the crash, James surpassed Bryant's All-Time Scoring record to which Kobe tweeted  "Continuing to move the game forward @KingJames. Much respect my brother." Bryant also added the hashtag "#33644" which was the number of points needed for James to become the third-leading scorer in NBA history.
Teams across the NBA honored Bryant including the Toronto Raptors and the Knicks where the Madison Square Garden arena was lit up in purple and gold.
Bryant and Gigi were often spotted together enjoying NBA games appearing to talk strategy. The two had a strong bond and Kobe nicknamed her "mambacita" after his own nickname, Mamba. About their relationship, Shaquille O'Neal tweeted "Kobe was so much more than an athlete. He was a family man."
Bryant was also successful off the court. He wrote a memoir titled "The Mamba Mentality: How I Play" and his animated short film, "Dear Basketball," which won an Oscar for Best Animated Short Film in 2018.
But Bryant also faced controversy. In 2003, he was charged with sexual assault although the charges were dropped.
Many fans, however, are deflecting this event in the aftermath of the tragedy. "Here's what we are not going to do… We are not making Kobe's death about his sexual assault case. Miss me with that BS," Jasmin Maher tweeted.
Bryant is survived by his wife, Vanessa Laine Bryant, and three daughters including seven-month-old Capri. Vanessa has not publicly commented on the tragedy at this time, but she tweeted a broken heart emoji later in the afternoon.