My Life as a Theater Kid
My experience in performing arts changed my life
I was a young artist, and I loved to paint and draw and create. My favorite subject in elementary school was art. I loved my art class, especially the art teacher Mrs. La Nora Long. She always encouraged me to be the best artist I could be, no matter what art form it was. 
In fifth grade, she introduced me to the Set Design club. We were the kids who would paint the backdrops for the plays put on by the performing arts club. Being involved in creating such wonderful pieces of scenery for the shows, made me interested in performing in one.
I was always an outgoing student so I had no fear that I wouldn't do well in the upcoming performance of The Little Mermaid Jr. I signed up right away and immediately began memorizing the entire show. I was, of course, inexperienced so I had no idea what I needed to do to prepare. 
Audition day came and I sang "Poor Unfortunate Souls" and it was flawless. I was so proud of my work I was sure I would get a good part. The thing about certain directors is that there are of course favorites when choosing parts, that's the not so good thing about theater.
When the cast list came out, almost everyone was shocked. A few girls even cried, but I mean we were elementary school kids and everything was emotional. I was cast as a "sea creature" which was an "extra"–a not so important piece in the show that was just for background effect. Yes, I was disappointed. The directors picked favorites, and one of their daughters was even cast as flounder.
I used to go every year around Christmas to see The Nutcracker with my father. I remember vividly pointing at the dancers and saying how I wanted to be just like them. Remembering how desperately I wanted to be on stage helped me to stay in the show and participate.
I don't have much memory of the rehearsals or the performance itself, but I do remember how much fun I had. I danced and sang and my art pieces were displayed as the backdrop for the entire show. I even designed the cast t-shirt. I know I wasn't a large part of the show, but I had fun and that was the whole point. That is why I kept doing it in middle school and currently in high school. It's fun and it makes me feel good.
I wouldn't say that I am the best actress and I am not the best singer, but I would say that I have the best life being a theater kid.
I am honored that I am given amazing roles in our plays here at Dunbar. I am also lucky to be an ensemble member in the musicals. I enjoy getting close to my cast members every day. Rehearsals may be difficult but in the end, when the last performance takes place, and everyone is giving 110 percent of their best effort, there is the strongest emotion that is shared across the stage. 
As I have been in nine Dunbar shows, I have realized that the small moments are something that needs to be cherished. What I didn't know as a fifth-grader is that the bonds and friendships you make just being involved in performing arts are so much stronger than any other. And every part, even being a sea creature is just as important as any other.
Donate to Lamplighter Media Productions
Your donation will support the student journalists of Paul Laurence Dunbar High School by helping us cover our annual website hosting costs. All donations go directly to School Newspapers Online (SNO) to cover our fees.
About the Contributors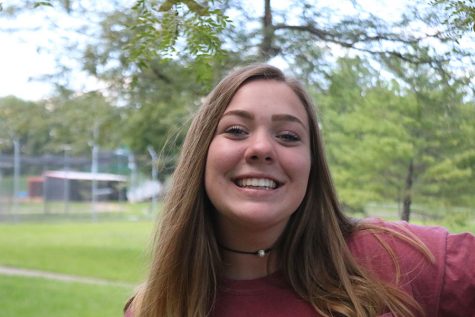 Savanna Montgomery, Copy Editor
My name is Savanna Montgomery and I have been interested in journalism since elementary school. I've been writing since I could remember, I've made it...