I Need Longer Pants
Buying bottoms can be a more difficult task then one may think.
If you don't know me, you have probably seen me walking down the hallways. Yes, I am the really tall girl you see on your way to class. No, I don't wear men's size 13 Nike's. Yes, I have always been this tall. No, I am not on the basketball team.
Being a 6'2" teenager, I answer these types of questions a lot. I have also faced lots of challenges that come with my height. Believe me, I have ducked under my fair share of doorways. However, one of the greatest challenges of all is finding pants that are long enough.
I have become a master at hiding the fact that most of the time I look ready for the flood. Some of these tricks include rolling the pants up to a specific length so the cuff doesn't look too big, and every tall girl knows the higher the heel of your shoes, the shorter your pants look. 
While I admit I have not always been the biggest fan of my long stature, I have learned to love my height. I've grown up a lot in high school, and this personal growth has given me the confidence to stand tall. Although it might have taken some time to be comfortable in my own skin, I still would like to not be reminded of how much longer my legs are than everyone else's every time I put on a pair of jeans.
One thing is for sure, the world needs longer pants. 
But it also needs a lot more than long pants. Even though we see on social media platforms a new wave of body positivity, it seems that the fashion industry is moving a lot slower. 
While we are seeing more and more inclusive brands like Fenty Beauty and Fabletics, there is still a need for more brands to follow. Brands like Abercrombie & Fitch, who do not carry any XL or XXL sizes in women's clothing (their pants only going up to a size 10), are much behind the times. Brands like these are basically saying they really only want customers who look like the models in their ads.
This can definitely have a negative effect on the people who don't look like these models.
I have had my fair share of times where I love a pair of jeans on a mannequin, but as soon as I put them on, they suddenly turn into capris. It can be really disheartening to have the sales assistant tell you how you just aren't made for their pants. Girls all over the country have felt this way at some point in time.
And it is not even just because their pants are too short. There are a number of things that girls want more of. Dresses with pockets, plus-size clothes, variety in clothes that are deemed "skin-colored." 
So yes, the world needs longer pants, but it also needs to recognize the vast variety there is in people's sizes and shapes.  
About the Contributors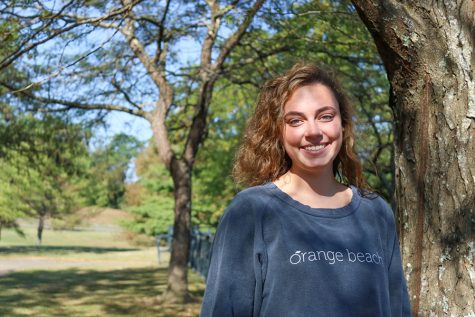 Eleanor Davis, Editor-in-Chief
I'm Eleanor Davis and I am a Senior at Dunbar. This year marks my third year on staff and I am fortunate enough to be one of the Editors-in-Chief for Lamplighter....