Payton's Thanksgiving Traditions
Everyone has their own Turkey Day plans, here are some of mine.
Thanksgiving is the time for spending time with family and giving thanks. Families all across America come together and give thanks for what they have in their life. From watching the Macy's Thanksgiving Day Parade in the morning to football games in the afternoon and evening, the Thanksgiving holiday is for cooking all day, then eating until your stomach is overloaded. 
Thanksgiving became a national holiday in 1789. The first Thanksgiving was when the Pilgrims celebrated their first harvest in the new world. They celebrated with the Native Americans and a feast. Thanksgiving is always celebrated on the fourth Thursday of November.
There are many foods that people wait for all year. Many popular foods with Thanksgiving meals are pumpkin pie, cranberry sauce, stuffing, and mash potatoes with gravy. My favorite is mash potatoes with gravy, both my grandmothers make the best gravy in the world.
In my house every year, my family rotates between celebrating Thanksgiving at my father's parents' house and my mother's parents' house.  
At my father's parents, up in New York, my grandmother always makes fantastic Swedish meatballs. They are the best meatballs that I have ever tasted.
While my grandma is making food, the rest of my family plays ice hockey on the Xbox. My uncle is so competitive that after playing the games, he will lie on the ground and cry if he lost.  Sometimes we can hear him screaming in the other room.
We also play flag football. The last time we were there, when we were playing it, my cousin, Reese, lost her first tooth. She was so scared about it but after it fell out, she was thrilled! 
At my mother's parents' house near Cincinnati, my grandmother makes her famous soup. My family calls it "Mimi's Soup," a Hungarian chicken soup that takes an entire day to be made. It is the best chicken soup ever.
At some point in time during the day, my aunt creates a scavenger hunt for me and my cousins. It is always so much fun! My grandparents own a couple of ATVs, so after that, we drive around their acres for a while. Those rides are so pretty because the sunsets are so beautiful.
We watch the Macy's Thanksgiving Day Parade. It is one of my favorite things about Thanksgiving. Families gather to go see the parade in New York City or watch it on television. Many popular singers, actors, and dancers come together to perform and celebrate Thanksgiving and the start of the Christmas season. People who go and see the parade wake up as early as 6 a.m. to get a good spot, even though the parade starts at 9:00 am. I hope to be one of those people in the future.
This year, we are celebrating at my father's parents' house up in New York. I can't wait to have my grandma's delicious Swedish meatballs! 
Thanksgiving is November 28th, stay safe in your travels and have fun with family and friends.
About the Contributors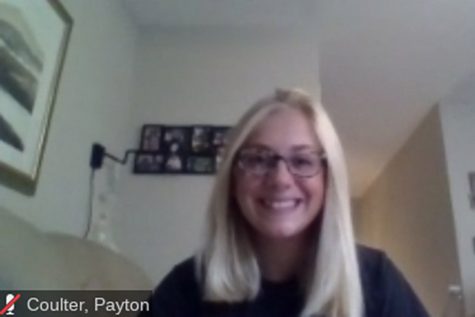 Payton Coulter, Business-Editor-In-Chief
My name is Payton Coulter and I am a senior at Dunbar. I am one of PLD Lamplighter's Editors-In-Chiefs, and I'm in charge of the PR, HR, and Business teams....