Indian Boy: I Broke A Dream
The lives of common men are often left unseen and, as such, are the lives of common Indian men. However today, stories big and small will be brought to attention. As a new addition to the many individual stories traveling Paul Laurence Dunbar High School, PLD Lamplighter presents "Indian Boy," a trilogy of common tales by our broadcast editor Rohan Palla.
On Aug. 28, 1963, Martin Luther King Jr. said "I have a dream." On Jan. 15, 2018, I said "What is a dream?" As I walked in the MLK march, commemorating a man who gave inspiration to the world, I looked back on dreams that I once had.
My ordinary childhood gave inspiration to many of my ambitions. I rode a camel to school every day and jumped over a manhole to get back home. I skipped school to catch the latest Tollywood thriller, Shankar Dada Zindabad, and then tried to recreate those action scenes with my friends. However, I learned to not use those movements in school when I punched a kid and was reported for excessive violence. Nevertheless, I knew I always needed some flavor in my life so I decided to pursue Taekwondo after moving to the United States.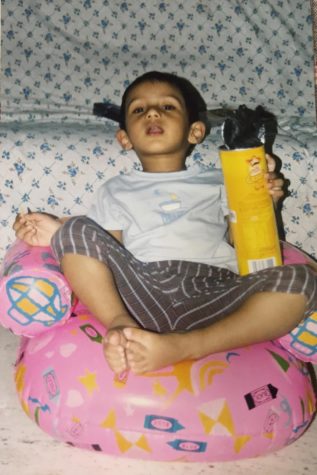 I kicked through block after block of wood like they were paper. I trained under Tiger Kim for six months and eventually earned the mighty green belt ($24.99 plus tax). A few weeks later, my dad and I went to a friend's house. The son had also been learning from the legendary Tiger Kim. I saw all of his wooden boards and told him to hold one up for me to break. My foot struck the board. At that moment, the colossal pain in my foot allowed me to piece together that master Tiger Kim had been bending the board for me whenever I struck it. Although my friend's board did not shatter, my dreams did.
Everyone gets the words "Follow your dreams" spoken to them continuously throughout their education. However, no one tells you that, even if you follow through with the work, the dreams may not follow through for you. As an Indian, your dreams are typically limited to becoming a doctor or an engineer. Our passions are not limited to these fields because Indians are profound in math and science, but because these are sure shots.  As a result, there are very few of us who take risks. I aspire to be one of them.
Have you ever wondered why every one of us has a different dream? Why don't we all want to become the next president, a famous musician or an actor? Yes, it is mostly influenced by how we grew up, but a lot of us grew up with similar childhoods. There are those little things like watching a movie over attending an art show which slowly shape who we aspire to be. I grew up like many other kids in India, but the Tollywood movies my mother bribed me with so that I would eat and my uncle's love for photography shaped who I am today.
Several months after Taekwondo, my friend showed me a scene of him shooting his dad with dozens of bullets. Obviously, it was special effects but, at the time, I was amazed by how he could make something so captivating with an iPad. That one scene showed me the simple accessibility of making movies and recreating scenes through the camera instead of punching classmates. And with that, I took off.
"
Although my dreams are much bigger, I would like to show that dreams can come true if you follow the right one."
I now write my story as a graduate of Kentucky's Governor's School for the Arts in film and photography and a director of the school broadcast. Although my dreams are much bigger, I would like to show that dreams can come true if you follow the right one.