The Legend of Lexington's Smiley Pete
There are cities around the world known for their unique mascots.  What few know, though, is Lexington once had a town dog.
In 1946, "Smiley Pete" was known by many names, including the Canine Con Man, the Panhandling Pooch, and the Magnificent Moocher. He spent his time roaming the streets of downtown Lexington, making his home on the sidewalk between Main and Limestone Streets, where the Fayette County Circuit Courthouse sits today.
Pete appeared in Lexington at the right time to leave an impact on the citizens of this time period. He made people feel good and provided a sense of hope for all those who knew him.
Rumored to have been left by his traveling owner, Pete enjoyed a life of wandering from shop to shop in downtown Lexington. Many attempted to adopt him, but he alluded all to live the stray life. He was the only dog allowed by the police to roam free, being coaxed by different business owners by treats.
A daily meal plan for Pete ranged from waffles for breakfast, beer and chocolate for lunch, and dog food and water for dinner. All his food was provided by local restaurants and students attending the University of Kentucky. At the time, the Lexington Herald and the Lexington Leader were separate newspapers, but both eventually published notices asking the public to refrain from feeding Pete junk food, for it was taking a toll on his health.
The news also kept up with his constant antics. One night, he caught a possum on Short Street and newspapers were there to photograph the event.
Pete even made appearances for charity. He posed for organizations such as the Red Cross and March of Dimes. There was even a fund for polio dedicated to Pete with the slogan "Give to Polio for Pete's Sake."
In 1952, Pete had six puppies with Patsy, a dog he met in a kennel during the rabies epidemic. Five of the pups survived and were sold in Henry Foushee's flower show window on South Limestone. The puppies sold for $20 each and were understandably popular among the citizens of Lexington.
Although Pete was not Lexington's first town pet–in the 1870s, a dog named Bulger lived throughout the town, a dog named Ownie took over in the early 1900s bumming rides from trains, and a cat named Tom reigned in the 1930s–it can be argued that he was the most beloved. So beloved that all of Lexington mourned his death at age 14.
Smiley Pete died of a heart condition on June 17, 1957. Many of his human friends paid to have a bronze plaque installed in his honor which can be found near the Thoroughbred Building on North Broadway. The plaque reads "Smiley Pete — Missed By All."
About the Contributors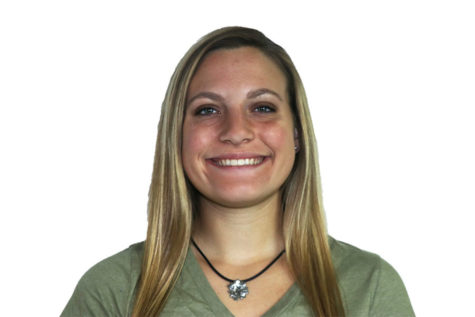 Peyton Humphreys, Staff Reporter
Peyton is a senior and this is her first year on staff. She loves pugs more than she loves herself.