PLD Makes Basketball History
Bulldogs crowned 2016 State Champs in front of 10,091 fans at Rupp Arena
LEXINGTON–"We just the champs, bruh."
As simple as that, top-ranked and tournament favorite, Paul Laurence Dunbar, went on to beat #6 Louisville Doss (30-6) 61-52 in the state finals on March 20, and brought the school its first basketball title in the history of the program.
Dunbar has been to the final game of the Sweet Sixteen on five different occasions: in 1961 and in 1963 when a Bearcat served as the school mascot and the colors were still green and white, one in 1990 after the school reopened at its current location on Man o' War Blvd., and again in 1993 and 1994 behind PLD alum Cameron Mills, who went on to play for the UK Wildcats. The 2016 win marks the first championship in school history, and the first time a Fayette County Public School has won the title since Lafayette defeated Louisville's Male in 2001.
Additionally, the boys totaled 33 wins this season, which is also a Dunbar record for most wins in a single season. Coach Scott Chalk not only got his first Region 11 championship, but also his first State Championship as a coach. They just can't stop breaking records.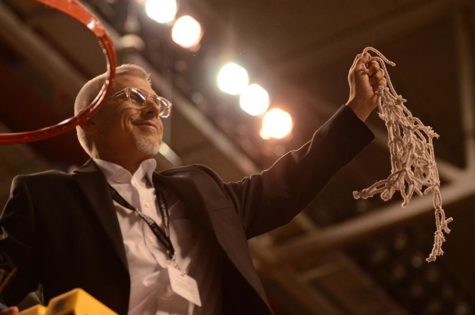 Led by tournament MVP, junior Taveion Hollingsworth's 20 points and 8 rebounds, they broke the streak of their three previous come-back victories with a wire-to-wire win over Doss. The Bulldogs never trailed during the game. Out of the entire 128 minute tournament, Hollingsworth, who averaged 21.5 points per game, sat on the bench for just four minutes. This marks the junior's fourth MVP honor en route to the title; 43rd District MVP, Region 11 MVP, Region 11 Player of the Year and the most coveted State MVP.
"I played pretty hard to get it, so I feel like I deserved it," Hollingsworth said of his Most-Valuable-Player honor. "It's a good feeling." On the team victory, Hollingsworth commented, "We expected to make it that far after last year, and look where we ended. 2016 STATE CHAMPION -WE MADE HISTORY MAN."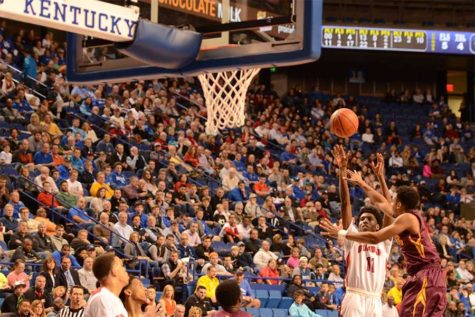 The "four horsemen" of the team have been a force all season long, and the March 20 game was no different. These four key players, Darius Williams, Jordan Lewis, Dontell Brown and Hollingsworth, combined for over 90% of the team's points: Williams finished with 15 points and 4 rebounds, Jordan Lewis totaled 9 points and 3 rebounds and Dontell Brown added 11 points and 8 rebounds.
The rebound game was in favor for Dunbar 31-21, and as the players affectionately mocked Coach Chalk as always saying, "if you don't rebound the ball, you will not win the game."
Doss struggled with foul trouble all night, as they sent the Bulldogs to the line a total of 38 times. From the charity strike, the Bulldogs converted on 25-38 free-throws.
Doss fell in a hole early, as Dunbar rushed out to a 15-2 lead early in the first quarter. Once Dunbar point guard Jordan Lewis caught a backdoor alley-oop from Hollingsworth, the momentum was completely in Dunbar's favor.
"It means so much to win with this family," said Lewis following the game. "This team is a family."
The Dragons did not have a particularly good shooting night, as they shot 41% from the field and 27% behind the arc. Led by All-Tournament team players Kenyi Bryant's 23 points and Kelshawn Knight-Goff's 11 points, the team still didn't stand a chance against a top-ranked Dunbar team firing on all cylinders.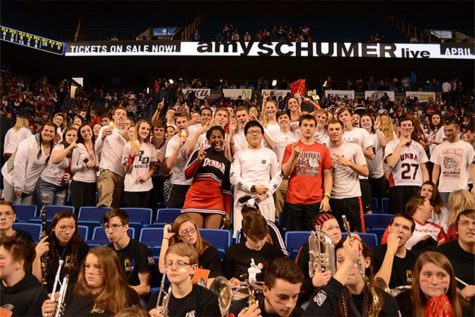 After leading the game for 31:55, the chances of a comeback looked slim to none as time expired, and the Dunbar boys and members of the Dog Pound shook Rupp Arena as they exploded into jubilation.
"It sounds good [and] and feels good. We will always be remembered," said senior guard Darius Williams on winning the title.
"[Being a senior] makes winning state a state championship much sweeter," said forward senior Justin Kelley. "Most of us aren't playing in college which means this is the end of the [basketball] road forever."
Did I mention the State's Most Valuable Player and 2017 Mr. Basketball front-runner predicted this would happen on November 4, 2015?

"It feels amazing. Two years ago, I never would have thought about being here," said junior center Dontell Brown. "Knowing that I have one more year left only keeps me hungry for another one."
I'm sure the players, the coaches and the Dog Pound wouldn't mind heading back to Rupp Arena next season.
---
State All-Tournament Team  (selected by coaches)
MVP—Taveion Hollingsworth (Jr.), Paul Laurence Dunbar
Team— Jordan Lewis, Sr., Paul Laurence Dunbar, Darius Williams (Sr.), Paul Laurence Dunbar
Ted Sanford Award—Vincent "Earl" Clark (Sr.), Paul Laurence Dunbar
---
Lamplighter All-Tournament Team (selected by Lamplighter staff)
Team— Darius Williams (Sr.), Jordan Lewis (Sr.), Dontell Brown (Jr.), Justin Kelley (Sr.), Jordan Brown (Sr.).
MVP— Taveion Hollingsworth (Jr.)
---
Paul Laurence Dunbar 61,  Doss 52
#1 Lexington Dunbar (33-6) —  Hollingsworth 20, Williams 15, Brown 11, Lewis 9, Kelley 2, Homer 2, J. Brown 2.
#6 Doss (Louisville) (33-2) — Bryant 23, Knight-Goff 11, Anderson 5, Hargrove 4, Hall 5, Maddox 2, Stokes 1, Traynor 1.
Dunbar: 17 11 15 18 — 61
Doss: 7 6 12 27 — 52
 2015/2016 Dunbar Boys State Championship Roster
| | | | | | | | |
| --- | --- | --- | --- | --- | --- | --- | --- |
| 4 | Dontell Brown | C | Jr. | 22 | Tre Homer | G/F | So. |
| 20 | Jordan Brown | G | Sr. | 13 | Justin Kelley | G | Sr. |
| 31 | Matthew Browne | G/F | Jr. | 12 | Ben Keplinger | G | Jr. |
| 14 | Vincent Clark | G | Sr. | 0 | Jordan Lewis | G | Sr. |
| 5 | Michael Corio | F | Fr. | 15 | Javea Richardson | G/F | Jr. |
| 21 | Jared Gadd | G | Fr. | 50 | Kaelen Whiteside | F/C | Jr. |
| 11 | Taveion Hollingsworth | G | Jr. | 23 | Darius Williams | G | Sr. |
About the Contributors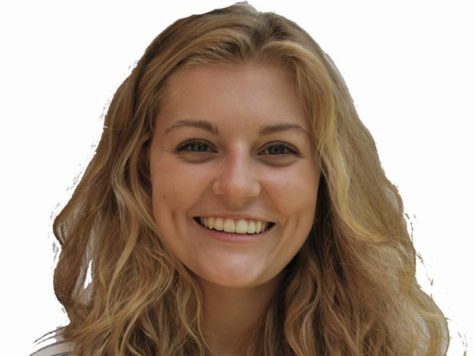 Sydney Carter, Photography Editor