Taveion Hollingsworth Erupts for Career High 40 points
Dunbar improves to 4-0 after Tuesday night's victory against Lafayette in the first District game of the season
Lexington, KY—When forward Justin Kelley said, "We are going to beat them just as bad as all of the other teams we've played," he wasn't playing around.
Tuesday night, junior Taveion Hollingsworth and co. took down the Lafayette Generals (2-1) 70-54 in what seems to be becoming an ordinary feat – blowing out teams.
Remaining a perfect (4-0), Hollingsworth led the way with 40 points on 15-of-20 shooting and 3-of-4 from downtown. He was followed by Darius Williams' 15 and Jordan Lewis' 11 point outings. Justin Kelley also had a nice night on the boards, pulling in 9 rebounds. Dunbar has averaged 74 ppg, while their stingy defense has allowed only 53 ppg. This means that they average around a 21 point difference per game.
"
We overcame every obstacle that came our way.
— Darius Williams
Senior guard Darius Williams knew they had work to do. "The game tonight was just about not letting the extra stuff get to us, like the hype from the Lafayette fans. We handled it well and overcame every obstacle that came our way."
On the flipside, Lafayette only scored 1 point above Dunbar's average points per game. 6-6, 210lb All-City forward Ross Jenkins had a team high 12 points, while Eric Powell, T.J. Downey, and Harrison Lane only combined for 20 points.
The key to Dunbar's successes?
Taveion Hollingsworth.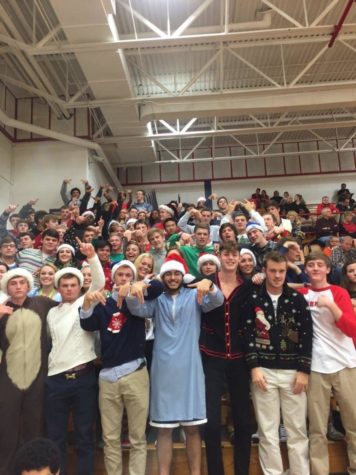 Hollingsworth has become a household name around Dunbar this season. The sensational junior has been making teams look silly, especially tonight, dropping a career high 40 points in their first district game. When asked about his new record he replied humbly, "it feels pretty good."
This wasn't the only highlight of the night, however. Hollingsworth cunningly leaped into the air shooting a 3, hitting the 3, and then hit the deck for an and-one. Unbelievable. This game marks the third game in a row where Hollingsworth has scored more than 30 points (Bryan Station 35, Madison Academy 33, and Lafayette 40). This equates to a season average of 32 ppg.
He dedicates his performances to his family. "My parents and little brothers motivate me. It makes me happy when I see the them in the crowd cheering me on, and then I look to the student section and they are hype. I love it."
The Dawg Pound was on the loose tonight as they dressed in Christmas attire just in time for the holiday season. The student section has played a vital role in the wins for Dunbar.
When asked about whether the opposing student sections and chants made it difficult to focus, Hollingsworth replied, "Nah. I don't really pay attention to them, cause our section is better and louder. We have nothing to worry about."
Friday night the Bulldogs will take on Coach Brandon Salsman's Lexington Catholic Knights. Catholic (2-1) knocked Dunbar out of the 43'rd district tournament last year (51-55) on Feb. 24, 2015. Coach Scott Chalk and his team are looking for payback.
"We are getting revenge on them too," said Taveion Hollingsworth. "The two years I've been on the team, I've lost to them in districts back to back years."
"All I want to do is beat them."
These two will square off on Friday, December 11th at 7:30 for a little cross town rivalry.
Lamplighter Media Offensive Player of the Game: Taveion Hollingsworth (Jr.) 40 points, Paul Dunbar
Lamplighter Media Defensive Player of the Game: Justin Kelley (Sr.) 9 rebounds, Paul Dunbar
---
Paul Dunbar 70, Lafayette 54
PAUL DUNBAR (4-0) — Hollingsworth 40, Williams 15, Lewis 11, D. Brown 2, Clark 2.
LAFAYETTE (2-1) — Jenkins 12, Downey 8, Powell 6, H. Lane 6, J. Jenkins 2.
Dunbar: 22 21 13 14—70
Lafayette: 13 13 20 13—54