Dunbar's Swimming… Magic
Dunbar swimming is favorited for a State Championship three-peat, exactly 20 years from the last State Title, which was also a three-peat.
For the first time since 2003, Dunbar won the Combined Swimming and Diving State Championships for back-to-back years, and according to Head Coach Cole Pleasants, "the three-peat is coming."
Going back 20 years, in 2003, Dunbar's state title was a back-to-back-to-back win. Having won the Combined State Championships in 2001, 2002, and 2003, and then fast forwarding exactly 20 years to 2021, 2022, and potentially 2023, it begs the question: how did this happen?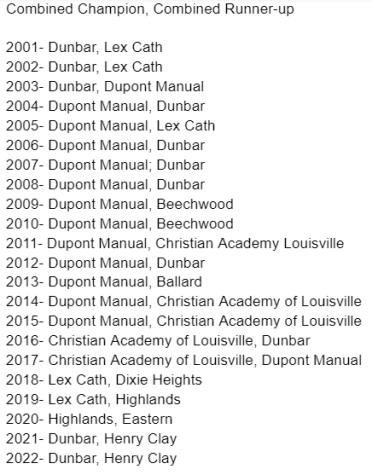 Could Dunbar have coincidentally won back-to-back-to-back State titles exactly 20 years apart?
The answer is no.
Something greater is at work. Something we don't understand.
Just kidding.
Dunbar swimming isn't fulfilling any prophecy or under some divine influence (as far as I know). But, there are certainly a few reasons leading to Dunbar's peculiarly spaced success. 
First of all, swimming is a regionalized sport, meaning the large majority of swimmers come from two areas: Lexington and Louisville. While some rural county schools are powerhouse programs in sports like football (Boyle County) and baseball (Mccracken County), county schools almost never make a noticeable appearance at the Swimming State Championships. 
Why? Accessibility.
"I wish I lived in Lexington," says Kentucky's #1 and the nation's top 20 ranked Class of 2026 recruit Clark Coyle. Clark, who lives in Boyle County, drives a 3-hour round trip to practice with Lexington's Kentucky Aquatics at UK every day. Moreover, since few teenagers are able or willing to commit the time to travel to far practices every day, "there's not only a lack of places to be able to train but also a lack of people to be able to train with," says Clark.
The reality is that swimming pools are expensive, and it's not practical for KHSAA to invest the amount of money needed to build and maintain swimming pools. At a minimum, it costs a million dollars to build a 25-yard swimming pool. Further, in order to maintain the pool, it costs at least $100,000 per year to maintain a pool. According to other State High School Athletic Associations that have public high schools with pools, this has been a significant source of financial stress. 
Because of a swim pool's high expenses, Kentucky's only well-maintained training facilities exist in Louisville, Lexington, Elizabethtown, and Barbourville, making it extremely difficult for swimmers in most rural county schools to compete against big city swimmers who have training facilities in their backyard. 
So, how does this affect Dunbar? 
Well, because swimming only allows certain regions to excel, most all teams have very little depth, which allows a team with a small group of standout stars to make more of an impact than they would in other sports. 
In 2001, 2002, and 2003, the Dunbar Swimming Dynasty rode on the backs of seven swimmers, all of whom competed in college.
Girls:
Lauren Willis (Purdue/Kentucky), Class of 2004 All-American
Bo Stith (Tampa), Class of 2001 All-American Considerate
Ashley Barnes (Ohio State), Class of 2001 All-American Considerate
Kirsten Allen (Davidson), Class of 2004 All-American
Amy Beth Allen (Depauw), Class of 2001 All-American Considerate
Boys:
Brandon Lovell (USC), Class of 2004 All-American
Kevin Teague (Navy), Class of 2004 All-American
Dunbar's leading scorers today include Missouri commit Alex Ochsenbein and uncommitted Nathan Zhu and Seneca Oddo. Other significant contributors include Mark Dattilio, Jared Brown, and Katie Bridwell (Centre).
In all, Dunbar's three-peat spaced 20 years apart is a result of two groups of talented swimmers, competing in a state where a few nice swim facilities make hotspots for swimming talent in just Lexington and Louisville. For now, there's not much that KHSAA can do to address the disparity that these high-quality facilities make. Swimming pools are just too expensive, and it's not practical to spend the money required to build pools in less densely populated areas.
Stay tuned in the following couple of weeks to hear from Dunbar's 2001-2003 State Champion All-American swimmers.
About the Contributors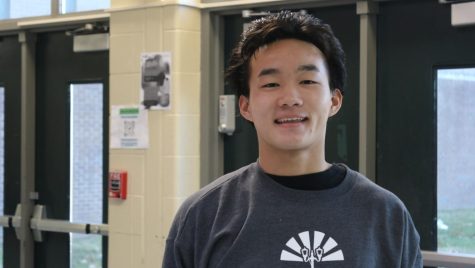 Nathan Zhu, Sports Editor
Hi, I'm Nathan! This is my second year on staff and my first year as the Sports Editor. One of my favorite things to do is watch and analyze sports, but...
Lucy McClung, Staff Reporter
Hi! My name is Lucy McClung and I'm a freshman in Intro to Media Arts, and this is my first year on staff. I enjoy filming and editing footage. I love...