Bulldogs Offense Catches Fire in Dominant Win
Bulldogs score season-high 80 points in final regular season district game.
On Feb. 12, The Dunbar Bulldogs faced off against the Tates Creek Commodores in the last regular-season district game for the Bulldogs.
The Bulldogs got off to a hot start and never dropped throughout the entire game.
"When you have a guy like Zach Carter who couldn't miss, it just fuels our team's fire," guard Tyler Gadd said.
The Dawgs were fresh off an intense triple-overtime victory at Henry Clay only two days before their game against the Commodores.
The Bulldogs went on to win the game 80-50 and the 80 points were a season-high for Dunbar. 
The Bulldogs were greatly aided by a stellar performance from senior forward Zach Carter,  who scored 27 points in the game. He also jump-started the Bulldogs offense in the first quarter as he nailed 5 three-pointers.
"It felt great scoring 27 [points]. It's a career-high for me and it wouldn't have been possible without all of my teammates looking to get me the ball and finding me while I was open. They were a great help in the process," Carter said.
The score at the end of the first quarter was 31-14 in favor of the Bulldogs. The Bulldogs would never relinquish their lead for the rest of the game.
The score at halftime was 41-23 in favor of the Bulldogs. In the first half, the Bulldogs had 6 fouls and the Commodores had 7.
The Commodores gained some ground in the third quarter. The score at the end of the third quarter was 53-40 in favor of the Dawgs.
Throughout the game, center Lionel Kumwimba made his presence known as he continually outrebounded Tates Creek and suffocated any attempt they made to score near the rim. He finished the game with 17 points.
Guard Nick Spalding also put on his routine performance for the Bulldogs as he scored 16 points in the game. He is undoubtedly the Bulldogs "Mr. Reliable," and they will need him to perform at a high level to make a deep run in the playoffs.
The Bulldogs asserted their dominance in the fourth quarter and outscored the Commodores 27-10. 
At the end of the game, Dunbar had 10 team fouls and Tates Creek had 5.
"We feel great about our team in this last stretch of games," guard Trey Todd said.
With the win, the Bulldogs wrapped up the number 2 seed in the 43rd District tournament. They finish the season with a 6-2 record in the district. They will face the same Tates Creek team in the district tournament.
About the Contributors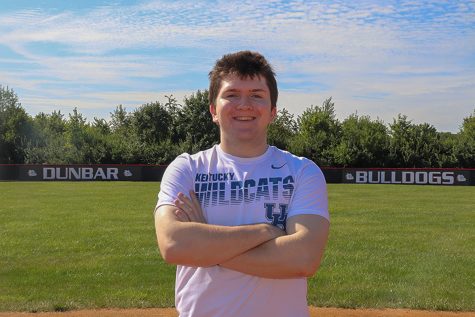 Jacob Hayes, Sports Writing Editor
Hi, my name is Jacob Hayes and this year I am a senior. This is my second year being part of PLD Lamplighter and I am our Sports Writing Editor. As time...