Dunbar Bowling Brings Home First Ever Title
On Feb. 8, Dunbar won the KHSAA boys' bowling State Championship.
On Feb. 8, the Dunbar bowling team competed in the KHSAA state bowling tournament in Louisville. The state tournament was played at Executive Strike and Spare in Louisville. The team was able to win the state bowling championship.
The team faced Pleasure Ridge Park in the Championship round and beat them in a best of 5 series.
The boys' team had to beat multiple teams before they made it to the state championship. They beat Dayton, Graves County, and St. Xavier before they made it to the championship. 
The Bulldogs went into the tournament after having earned a six seed among sixteen teams in the qualifying round. Pleasure Ridge Park, who they competed against,  was the four seed.
Sophomore Broox Golden won the KHSAA Boys' singles championship. 
"I know my abilities and I know where I am mentally so this to me is just a step in the right direction. Winning is always great, but to me seeing my progress right now is more important than seeing a short instance of success, especially knowing it'll be filled with more failure along the way," Golden said.
Junior Charlie Smith also finished 11th in the boys' singles state championship for the Bulldogs.
Sophomore Kaci Sapp finished fifth overall in the girls' singles championship as she scored 935 total points. 
"It's honestly really crazy to have won the state. We've been on a wild ride this year. It's amazing to have won, especially considering we were the only co-ed team there," Kaci Sapp said. 
This was the first bowling championship for Dunbar and for head coach Christopher Sapp. 
"I am still kind of in shock that we pulled out the victory. I believed our team was definitely good enough to do it, but a lot of times things have to fall in your favor," Sapp said.
The Bulldogs played against Pleasure Ridge Park in the finals and beat them 3-0. They won the first game 256-217, their second game 183-167, and their third game 211-185.
By winning the state championship, the Bulldogs have qualified for US High School Bowling National Championships in June. That tournament is being held in Louisville this year and the team plans to represent Kentucky well.
About the Contributors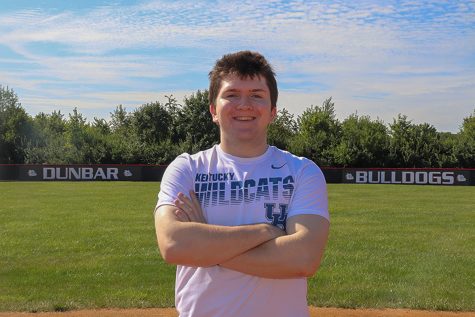 Jacob Hayes, Sports Writing Editor
Hi, my name is Jacob Hayes and this year I am a senior. This is my second year being part of PLD Lamplighter and I am our Sports Writing Editor. As time...