Dawgs Advance to Regional Finals
Last night the girls' volleyball team beat Bryan Station taking all 3 sets at the regional semifinals.
The tension was palpable as Dunbar and Bryan Station stepped on the court on Oct. 27 to face off at the regional semifinals. 
The first set kicked off with a serve from Bryan Station, but this didn't stop Dunbar from taking the first point with a tip from #7 Delaney Gash. However, Bryan Station quickly countered with an ace from #23 Mia Signs. Neither team was willing to ease up and it was an exceedingly close-set.
After multiple kills from #15 Isabella Haggard, #8 Ava Jackson, and #7 Delaney Gash, Dunbar was able to take the set with a spike from #24 Nyla Gains by a score of 25-23.
The Dawgs went into the second set revving up to win. Right off the bat, Dunbar got 2 aces from #6 Campbell Gash and a spike from #24 Nyla Gains. Bryan Station wasn't going to give up though. They met Dunbar with a long rally where #1 Ila Smith got Dunbar the point with a kill.
The trend of long rallies continued throughout the set as the Dawgs fought furiously to stay on top. In the end, Dunbar dominated the second set with a winning score of 25-11.
Going into the third set, enthusiasm was radiating off the court. As the set went on, there were some questionable calls that would've disheartened anyone but the Dawgs persevered and didn't let anything get to them as they kept their goal in sight. 
With some amazing blocks, kills, and spirit, Dunbar made it to match point. It came down to a battle in the air with #6 Campbell Gash getting the game-winning point, making the score 25-14. 
Throughout the entire game, the gymnasium was full of unmistakable exuberance that emanated off each player. This zeal was even noticeable to the players themselves. 
"The game was good, full of energy. Energy is what carries our team and most of the time what lets us win and that's what happened tonight," said #22 Clara Hawley.
The Dawgs look to carry the momentum from this win into the regional final where they will play Great Crossing at Great Crossing. This will be the third time the two teams have met so far this season. So far, Dunbar has won both matchups.
About the Contributors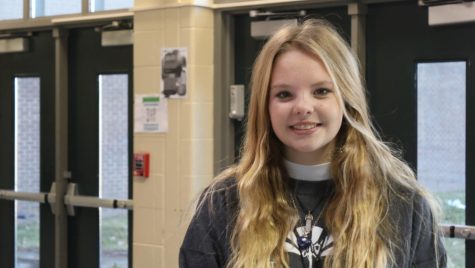 Trinity Kays, Editor-in-Chief
Hey I'm Trinity!!! Writing and journalism have always been a passion of mine. I love being able to express myself through my words especially when I sometimes...