Dawgs Advance to the Final Four
The Boys' Soccer team advanced to the final four after their win.
The Dunbar boys' soccer team competed in their elite eight-game and their last home game for the season on Oct. 21 against Boyd County. 
The Boyd County Lions came into the game with a record of 19-2 and the Bulldogs came in with a record of 19-3-2. 
Dunbar's student section, the Dog Pound, made its presence known early as they came out to the game to cheer on the Bulldogs.
The Dawgs dominated the game from the start, with Dunbar taking possession of the ball and keeping it on Boyd's side for the majority of the first half. Dunbar led at the half 1-0.
The Bulldogs really put the pedal to the metal in the second half where they outscored the Lions 3-0.
The Bulldogs had even scoring throughout their players for this game, with #13 Kobe Valdivia, #7 Isaac Cano, #10 Joany Chavez, and #9 Grant Courtad each scoring a goal for the Bulldogs.
#7 Isaac Cano has shined for the Bulldogs this season and has a team-leading 29 goals this season with an average of 1.2 goals per game.
The Bulldogs' goals were aided with assists made by #24 Ryan O'Hara and #18 Kasten Johnson.
#1 John Sader also remained a force to be reckoned with as goalie and he was able to produce a clean sheet in the game.
The Bulldogs went on to win the game by a score of 4-0 and in doing so, they were able to secure a spot in the state championship semifinals.
The Bulldogs certainly have a good chance of taking home a state title. They've scored 85 goals and only allowed 32 goals in this year. After this win, they stand at a 20-3-2 record.
The Bulldogs have also made it farther in the state tournament this year than last year, where they lost in the Sweet 16. 
This has been a historic season for the Bulldogs as they are the reigning 11th region champions, for the second year in a row, and they now have a pretty good shot at potentially winning the state championship.
Dunbar will play in the state tournament semifinal on Oct. 27 at Frederick Douglass.
About the Contributors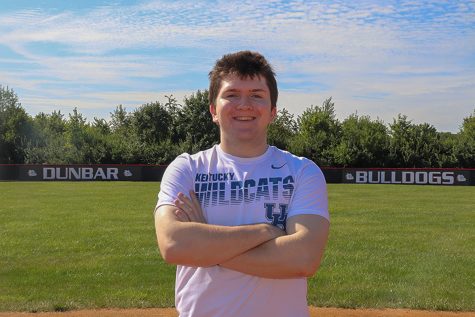 Jacob Hayes, Sports Writing Editor
Hi, my name is Jacob Hayes and this year I am a senior. This is my second year being part of PLD Lamplighter and I am our Sports Writing Editor. As time...