Volley Dawgs Do It Again
The girls' volleyball team crush the Defenders, winning 3 out of 4 sets and coming out on top once again.
The atmosphere on Sept. 16 game was ripe with determination as both Dunbar and Bryan Station were revving up to win. 
The game started off with Dunbar having a 3 point lead until Bryan Station was able to get 2 consecutive points. With a kill from #15 Isabella Haggard, the Dawgs cheering section erupted into a chant targeted at Bryan Station's section. 
"She's a freshman!" 
The back and forth between the two sections continued throughout the game, as it seemed neither group was willing to give the other the last word. Both continuously used the other's chants against each other with a common one being, "We can't hear you" in retaliation to each other's "Let's go Station" or "Let's go Bulldogs" alike. 
On the court, the competition was heating up. With several more kills from Dunbar's #8 Ava Jackson, #1 Ila Smith, and #24 Nyla Gains. These were accompanied by a setter dump from #6 Campbell Gash, full of aces and blocks. 
The Defenders weren't backing down, however, and had several kills from #23 Mia Signs, #30 Cameron Owens, and #25 Kiara Henderson also accompanied by blocks and aces.
Bryan Station won the first set 22-25 with blocks by #11 Izabella Carter #11 and #22 Sidney Eaves.
The Dawgs didn't lose hope as they went into the 2nd set with winning on their mind.
With a plethora of kills coming from #15 Isabella Haggard, #24 Nyla Gains, #8 Ava Jackson, and #7 Delaney Gash.
#6 Campbell Gash spoke to the refs about them not calling double touches. Dunbar ultimately took the set with a score of 25-19.
Dunbar went on the 3rd set with a score of 25-17, with a set winning ace by #22 Clara Hawley.
The 4th set was tight throughout. Both teams fought long and hard with numerous kills, saves, blocks, and aces. Bryan Station held Dunbar at the match point until they tied with a score of 24-24. When Station pulled ahead #7 Delaney Gash once again tied the game at 25-25. Likewise, #24 Nyla Gains tied the game at 26-26 at the match point. Bryan Station once again pulled ahead until #8 Ava Jackson tied the game at 27-27. She also scored the match point once Dunbar pulled ahead with a winning game of 29-27. 
The Bulldogs look to carry their momentum from this big win in the rest of their season.
About the Contributors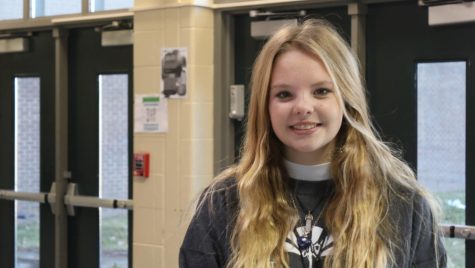 Trinity Kays, Editor-in-Chief
Hey I'm Trinity!!! Writing and journalism have always been a passion of mine. I love being able to express myself through my words especially when I sometimes...