Dunbar Racks it Up Against Breathitt County
Dunbar scored the most points against Breathitt County since 2003.
On the first Friday night under the lights, Dunbar put a pounding on Breathitt County.
The Bulldogs got off to a blistering start with wide receiver Erik White taking the first kick-off of the game to the house for a touchdown.
Breathitt County then followed that touchdown up with one of their own and kept the game tight throughout the first half.
Once the second half came around, the Bulldogs started to run away with the game.
At this time, the energy in the crowd was palpable and the student section, the Dog Pound, continued to be electric throughout the majority of the game.
The Bulldogs entered the fourth quarter with a 42-28 lead. They started the quarter off well, with a touchdown run from junior quarterback Cole Colony to make the lead 49-28.
Colony would go on to throw for 212 yards for 2 touchdowns and rush for 57 yards.
The energy hit a fever pitch when junior defensive back Mason Hayslett returned an interception 90 yards for a touchdown to stretch the Dunbar lead to 56-28 in the fourth quarter.
Dunbar had 5 interceptions in the game coming from junior Grant Angel, senior Andrew Jones, sophomore Delane Smith, junior Mason Hayslett, and freshman Kaylib Nelson.
Senior JT Seltsam led the dawgs with 7 tackles on defense, and juniors Grant Angel and Mason Hayslett both contributed 6 tackles each.
Senior John Law led the team in sacks with 2 in the game.
Senior Kamarion Robinson started his year out on the right foot, rushing for 129 yards and touchdowns on 11 attempts. Sophomore Delane Smith also contributed by running for 65 yards and 1 touchdown on 3 attempts.
Senior Shyhiem "Shy" Drew led Dunbar in receiving with 86 yards and a touchdown on 3 catches. Robinson also contributed in the receiving game with 24 yards and a touchdown on 3 catches.
As a team, Dunbar ran for 302 yards and passed for 212 yards, while allowing 240 passing yards and 173 rushing yards. In the end, they put up 69 points on Breathitt County, which is the most the team has scored since 2003 when they beat Woodford County 68-3.
The Bulldogs will look to carry the momentum from this first game into their game next week at home against Madison Central, another Class 6A team.
About the Contributors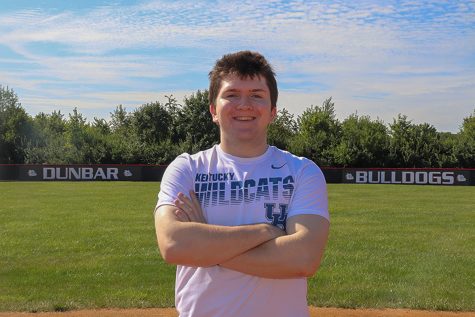 Jacob Hayes, Sports Writing Editor
Hi, my name is Jacob Hayes and this year I am a senior. This is my second year being part of PLD Lamplighter and I am our Sports Writing Editor. As time...