Dunbar Sneaks Away With a Win
A close game against Lafayette, Bulldogs Defeated the Generals 51-45
The Lafayette Generals met the Dunbar Bulldogs in the Dawg Pound on January 28th, and both teams came to fight. 
With strong defenses from both teams, scoring in the first quarter was significantly low. The game kicked off by Dunbar junior, #23 Tim Hall, scoring the first point and immediately blocking a big shot. Possession then was back and forth, both teams utilizing their good defensive positioning and keeping the opponents out of their space.
The Bulldogs continued to outmaneuver the Generals, connecting quick passes to break down the opposing defense but struggled to have their shots fall. The Bulldogs' own defense started off very well and kept Lafayette players from being able to connect with each other. The Generals didn't score their first point until there was only 2:46 left in the first quarter due to Dunbar's wall. Notable defensive plays from Bulldogs #23 Tim Hall, and #34 Zach Carter.
The first quarter was low scoring all around, ending with the Bulldogs ahead 9-7.
Dunbar begins the second quarter with possession, looking to get more points on the board. Finding their way, Dunbar's #0 Cade Hilt pulls a foul and makes the first point of the quarter going one for two at the line. 
The Generals began to mount a comeback, after huge plays by senior, #34 Ray Surratt. Trying to keep the Bulldog's momentum up, Tim Hall had a dunk on a breakaway that turned the Dawg Pound into a madhouse. The crowd only got more excited when Dunbar freshman, #2 Nick Spalding, started his string of 3-pointers. 
Close shots by Dunbar in the second quarter were struggling to make their way in, due to the Generals cracking down on defense. With #34 Surratt blocking shots left and right, the Bulldog's communication was thrown off, and they started to become disconnected.
The second quarter ended with the Bulldogs ahead 19-18.
Scoring more points this quarter than the first two, the Bulldogs started to take the lead and run away with it. Freshman Nick Spalding had three 3-pointers, and Senior Tim Hall blocked several shots by Lafayette and had a bucket of his own. For the first time out of the half, the score was 29-19 Bulldogs.
After talking with their coach, the Generals switched it up and came out with a bang. With just under five minutes left in the quarter, Lafayette's star player #34 led his team trying to tie up the game.
But to no avail. Dunbar beat Lafayette in a close game, 51-45.
About the Contributors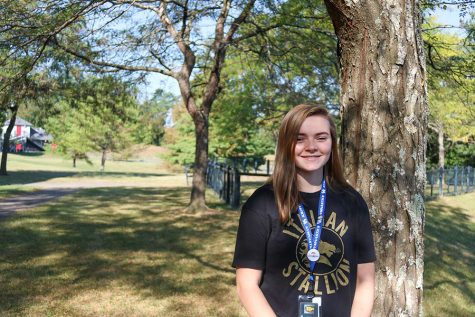 Teagan Garrison, Staff Reporter
I'm Teagan Garrison and I have been on Lamplighter for two years. I have been the Torch Podcast Editor for most of my time on staff, and can't wait to...