Is Trevor Lawrence The Next GOAT?
Trevor Lawrence had an amazing freshman season at Clemson. He won a National Championship, had 3280 yards passing, 30 touchdowns, and only threw 4 picks. Some people have even gone as far as to say he would have been the #1 overall pick in this year's NFL Draft.
But is Lawrence really the next Greatest Of All Time?
He wasn't a Heisman Trophy finalist this year but had close stats with 1 of the finalists, Tua Tagovailoa. The sophomore quarterback at Alabama threw 13 more touchdowns and threw for 686 more yards. This also came with one more year of experience than Lawrence.
When compared to the freshmen stats of the last Heisman quarterback, who started every game as a freshman, Lamar Jackson, Lawrence has much more impressive stats. Jackson only threw for 1840 yards, 12 touchdowns, and he also threw 8 picks. When compared to Lawrence the numbers aren't even close. Even when Jackson won the Heisman his only stat that was better was passing yards and Jackson only had  263 more.
Andrew Luck is considered to be the last truly great college quarterback. His stats are impressive, but when he was a freshman his stats were not that good. He only had 2575 passing yards, 13 touchdowns, and had 4 picks. When compared with what Lawrence did as a freshman, he is a much better quarterback.
Lawrence does have some big shoes to fill at Clemson. Deshaun Watson was amazing when he was at Clemson. in his first year starting he had 909 more yards than Lawrence, 5 more touchdowns, and 9 more picks. This was Watson's sophomore year, so he had another year of experience on Lawrence.
This year's Heisman Trophy winner and #1 overall pick, Kyler Murray, had some impressive stats in his junior year at Oklahoma. He threw for 1081 more yards and 12 more touchdowns. This came after he sat for his first 2 seasons in college.
With all of this considered if Lawrence continues in this route, the future looks very bright for him. He could end up winning Heisman Trophies and more National Championships.
He could be the #1 overall pick and be the next GOAT in the NFL.
About the Contributors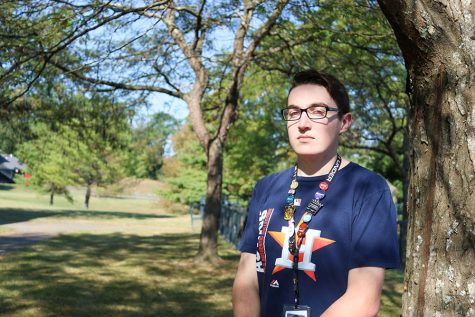 Mike Marshall, Sportswriting Editor
My name is Mike Marshall and this is my third year on the PLD Lamplighter staff. In my first year, I was a staff reporter and mostly kept up with schedules...