Woodford County Tramples Dunbar's Playoff Hopes
The Yellowjackets beat the Bulldogs 57-50.
The Bulldogs faced off against the Woodford County Yellowjackets on February 28.
Starters for the Bulldogs were #42 Haley Gadd, #23 Tanaya Cecil, #24 Jailyn Ginter, #20 Cheyenne Fullwood, and #5 Elise Ellison-Coons. Starters for the Yellowjackets were #11 Nia Jaco, #14 Abbie Hudson, #30 Ellie Dougherty, #52 Kayla Harlow, #54 Delaney Enlow.
The opening tip went to the Yellowjackets.
One key highlight of the of the 1 quarter was the defense. It was tightly contested, and the score was 5-4 Dunbar with only 4:15 left in the game. The rest of the 1st quarter stayed close, and by the end, the score was 13-12 Dunbar.
Possession went to Dunbar at the 2nd quarter which was more of the same from the 1st. Both teams were solid on defense. Offensively, there isn't much to talk about. The Yellowjackets were able to take the lead 21-20 going into the half.
Possession went to the Bulldogs to start the 3rd quarter. They came up short on offense and their defense started to fall off. With 4:20 left in the 3rd, the Yellowjackets went up by 7 making the score 34-27.
The Bulldogs still couldn't get things together on offense, and the Yellowjackets widened their lead to 9 making the score 40-31.
Possession went to the Yellowjackets to start the 4th quarter. The game followed the same trend as the rest 2nd half, with the Yellowjackets keeping a 9 point lead. The score was 44-35 with 4:15.
Everything changed with a little under 3 minutes left. The Bulldogs started to cut into the lead, and with 40 seconds left it was a 4 point game. The score was 54-50, but the Bulldogs were unable to fill the rest and the game ended with the Yellowjackets 57-50.
The leading scorer for the Bulldogs was #24 Ginter with 13 points. The leading scorer for the Yellowjackets was #54 Enlow with 28 points.
With this loss, the Bulldogs were knocked out of the region 11 tournament.
About the Contributors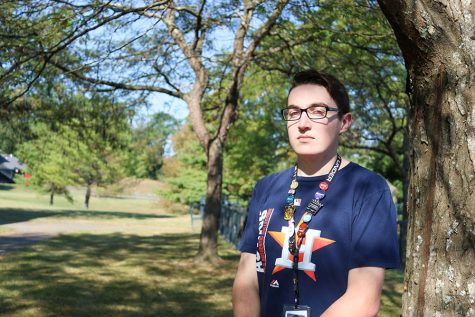 Mike Marshall, Sportswriting Editor
My name is Mike Marshall and this is my third year on the PLD Lamplighter staff. In my first year, I was a staff reporter and mostly kept up with schedules...