Dunbar Girls' Soccer Shocking District Championship Loss
The Bulldogs lost against Catholic on Oct. 11 in the district championship. After finishing regulation and double overtime with a score of 0-0, the Bulldogs, unfortunately, lost in penalty kicks by a score of 3-1; making it their first loss in 12 games.
Seniors and captains Meron Roach (MF/F) and Morgan Turcotte (GK) really showed out. Meron Roach was the center of Dunbar's offense creating most of their opportunities but sadly couldn't find the back of the net. Morgan Turcotte ultimately kept the Bulldogs in the game by stopping multiple shots destined to go in. She made 2 clutch saves with less than a minute left in regulation to keep the Bulldogs alive.
The Knights won by making 3 of their 4 penalty shots while Dunbar only made 1. The Knights superior aim and shooting abilities allowed them to win in such a fashion. They also had more chances than us proving how explosive they were which showed from the beginning of the game. This caused fatigue among the team especially Morgan Turcotte, having to stop so many shots.
This puts Dunbar at 14-3-1 on the season making them 2nd in the region and ending their 12 game win streak. Catholic is 4th in the region with a 14-5-2 record while receiving their 2nd win against Dunbar. With the end of the season nearing, both teams will compete in Regionals. Regionals are single elimination so a loss results at the end of that's team season.
Senior and captain Audrey Rawls(MF) was repeatedly spreading the field with long passes originating from the middle field. She frequently made these long passes to forwards Meron Roach and Ashlyn Fuller. Also, senior Taryn Thomas (D) made a big save after ball rolled pass Morgan Turcotte to keep score at 0-0; the ball was a few inches from the goal line.
Catholic started off the PK's by sending out #12 Maggie Corbett, she made her teams first shot. With Dunbar up next they sent out #14 Rachel green to which she missed, to follow Catholic's #9 Tori Mclaughlin missed being blocked by a diving Turcotte save. Following after is Dunbar's #8 Taylor Smith accumulating another miss. Finally Catholic's #13 Alexis Burdine breaks the streak and scores the first goal in 3 shots. Both Dunbar's #15 Meron Roach and Catholic's #2 McKenna Hamm miss their next shots. Dunbar's first goal comes from #11 Erin Heil but came too late as the next shot by #20 Sidney Schoff ended the game in a  3-1 PK loss and Dunbar's hopes for the district championship.
The Bulldogs played an overall good game but could not pull it out in PK's. The bad shooting is the main reason for the upsetting loss, but hopefully, this heartbreaking loss will motivate the Bulldogs to do great in regionals.
About the Contributors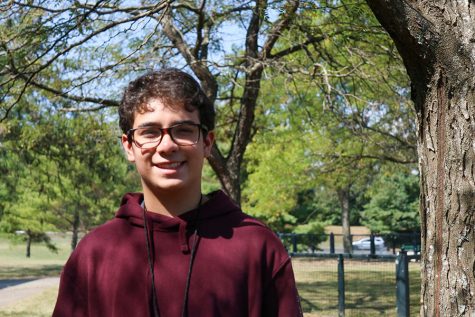 Winston Abedi, Staff Reporter
My name is Winston Abedi, I'm a sophomore at Paul Laurence Dunbar and this is my first year participating in Lamplighter.

I'm looking forward to contributing...