Dunbar's Upsetting 37-14 loss to Tates Creek
The Commodores rolled over Dunbar in the Sept. 6 bout
The Bulldogs faced a blowout by Tates Creek on Sept. 6. The Commodores won by a score of 37-14 resulting in Dunbar's 3rd straight loss. 
Sophomore players Jake Smith (QB) and Dre Thurston (WR, RB) came up big. Smith scored two touchdowns, and had 53 passing yards and 20 rushing while Thurston had 54 receiving yards, 21 rushing, and a series of big catches that sparked the teams' offense. 
Opponents Luke Duby (QB) and Mikaleb Coffey (WR, RB) showed out for the Commodores with Duby throwing for 199 yards, 2 touchdowns and a 51 yard long connection and Coffey having 77 receiving yards, 5 rushing, and 1 touchdown.
The Commodores explosive offense and disciplined defense lead to their rout over the Bulldogs. The offense produced 7 total touchdowns, 2 throwing and 3 rushing. The offense was very efficient, too, only allowing one interception, sack and 2 fumbles.
The defense generated 2 interceptions and 4 sacks including a drive involving Dunbar QB Tanner Cox twice in a row. The defense only allowed two touchdowns throughout the whole game, and the balance of skill on both offense and defense led to their win over the Bulldogs.
After this loss, Dunbar's record is 0-3, with a .000 winning percentage and a 3 game losing streak. Creek reaches 1-2 on the season, with a .333 winning percentage and a 1 game winning streak that puts them at 64th in the state. PLD is now 178th place in the state.
Weston Holloman provided Dunbar's only interception, returning it 7-yards. The interception was certainly a confidence booster for the team and crowd finding the stands at one of its loudest moments.
Dre Thurston made two large catches in a row to put their unit on Creek's 1-yard line. From there, Jake Smith leaped over the line for a 1-yard rushing touchdown. With the team's morale boosted, the defense came out and quickly forced a turnover against Creek's versatile offense. The press on the Creek's offense lead to a missed snap resulting in a Dunbar recovered fumble, again putting them at the 1-yard line. In the next play, Smith scored another touchdown. 
As an upsetting and hard-fought loss, this game should guide Dunbar to train harder and become more determined.
Next up: Dunbar faces McCreary Central on Sept. 14 for Homecoming.
Correction: There were two fumbles one recovered by number 50 junior Jual Jones and number 58 sophomore John Law.
About the Contributors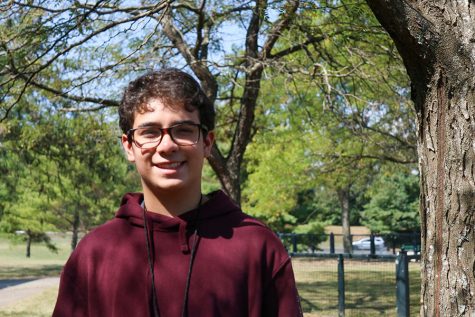 Winston Abedi, Staff Reporter
My name is Winston Abedi, I'm a sophomore at Paul Laurence Dunbar and this is my first year participating in Lamplighter.

I'm looking forward to contributing...